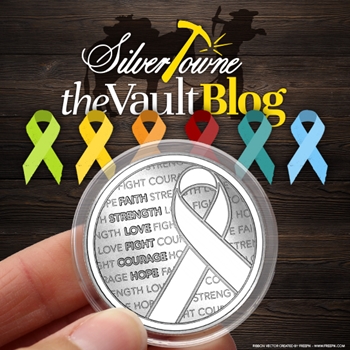 As we enter the month of September and Summer eventually turns into Fall, we take a look at a month that encompasses a lot of awareness. What do we mean? While we live in a world full of wonderful things, we also live in a world where there are terrible things and some of those things are cancer and cancer-related illnesses.
In this ninth month of the year, we bring extra special awareness to Childhood Cancer (Gold), Uterine Cancer (Peach), Leukemia (Orange), Lymphoma (Lime Green), Ovarian Cancer (Teal), Prostate Cancer (Light Blue), and Thyroid Cancer (Grey with Red). These cancers affect many Americans and many of the loved ones we hold so dear. While we should always bring attention to them, the month of September allows us to really hone in on who they affect, how, and what we can do to get more people educated about them.
Show Your Support With Silver
Custom minted at our own SilverTowne Mint in Winchester, Indiana, these .999 pure silver bullion rounds are exclusive to SilverTowne. With an obverse that features an awareness ribbon atop the words "FAITH, STRENGTH, LOVE, FIGHT, COURAGE, AND HOPE" in bold letters, these words alone stand for encouragement and support. The reverse features our standard non-dated design with the weight and purity designations of "1 Troy Ounce .999 Fine Silver" encompassing a 'blank' area designated for personalization with optional custom engraving.
Spreading awareness with the unique gift of silver is truly a once in a lifetime experience. Developed over two years ago by an experienced in-house team, this addition to our special occasion silver is truly something to be proud of. Commemorate those you love with a powerful message of support and hope while spreading awareness with this special piece.
As our custom packaging completes your gift, choose the appropriate color ribbon custom outer sleeve to represent the cause and awareness of the related illness you wish to speak to. Gift wrapping is no longer needed with this option. With the addition of a natural kraft gift box made with recycled materials within the USA, your silver bullion awareness ribbon medallion will fit snugly within a fitted plastic capsule that is cradled by a custom foam insert.