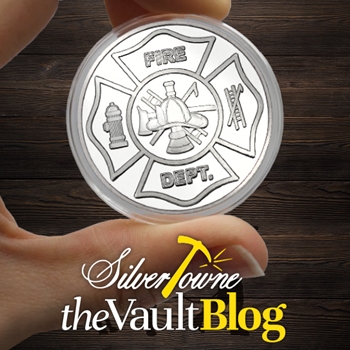 We are technically past the dog days of summer, but it sure does feel like things are heating up around the country. Wildfires are blazing in California like almost every summer now and we cannot imagine trying to fight a fire in heat like that. As a matter of fact, we cannot imagine fighting a fire at all. For those of us that can only imagine, there are those who deal with that reality.
Firefighters are some of the bravest men and women out there as they have dedicated themselves to serving the community and doing it with honor and sacrifice. Their purpose is to protect the lives and the property of people and they do so willingly. We have a number of service silver bullion pieces at SilverTowne, but it only seemed fitting to have the Fire Department silver medallion as the silver of the month for September.
Do you like free shipping? Of course, you do. Do you like the opportunity to get silver without having to buy more than what you want? Who doesn't? Welcome to our unofficial official silver of the month club where you do not have to sign up or enter any more information than necessary. All you have to do as a loyal SilverTowne customer is scroll to the bottom right of the homepage to figure out what piece of silver is featured each month and boom, you are in!
Custom minted at our very own SilverTowne Mint in Winchester, Indiana, this .999 fine silver medallion is exclusive to SilverTowne. The obverse of the design features the common fire department representative emblem which is a Firefighter Maltese Cross. Used for fire departments, the emblem includes common symbols of the trade like the fire hydrant, an ax, a hook and ladder, a pike, a firefighter's helmet, and a bugle/hose nozzle. Inscribed above and below the emblem are the words "FIRE" and "DEPT." The reverse of the medallion features our standard non-dated back with the weight (ONE TROY OUNCE) and purity (.999 FINE SILVER) designation displayed around a blank area left for optional engraving.
Your silver of the month medallion will come in a protective plastic capsule that fits directly inside a premium dark grey foam insert for safety. The foam insert housing your silver piece will then fit directly into our in-house designed SilverTowne gift box with natural kraft paper made from recycled materials within the United States. Completing this silver purchase, choose from a number of in-house designed custom-fitted outer box sleeves. Choose a red bow/ribbon to fit the firefighter theme or choose from a number of alternate packaging options and designs available at checkout.