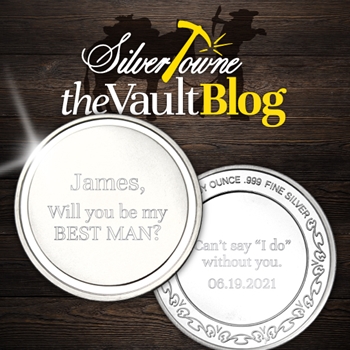 We are currently smack dab in the middle of the wedding season. While presents and a wedding registry might be on the minds of every soon-to-be bride and groom, they cannot forget that they are also on the gift-giving end of things during this exciting time. Before the wedding ceremony occurs, it is best to give both sides of the party a gift to say thank you for their love and support.
While we have a number of perfect silver bullion pieces for gift-giving, may we recommend to all the couples out there that will be walking down the aisle our blank .999 fine silver bullion pieces? Here are a few reasons we think these pieces are perfect:
While it is nice to get your wedding party something they will remember and cherish forever, you do not want to end up spending too much money on these gifts. Silver bullion is perfect in this respect. Even with engraving and gift packaging, you will not be breaking the bank saying thank you.
Blank bullion is truly customizable. With both the obverse and reverse available for engraving, you can completely make them say what you want! Names, dates, thank yous, special messages, and more are applicable!
These gifts are more than party favor quality. While we are not saying that wedding guests get "less than gifts", we ARE saying that these people in your wedding parties deserve a little more TLC. Silver bullion can increase in value over time and these keepsakes that are specially personalized to each individual give them a special edge over your run of the mill wedding guests.
Aside from wedding party gifts, you can also use them to ask those special individuals to be a part of your big day. "Will you be my Best Man?" or "Will you be a Bridesmaid?" are big questions. Using silver bullion to ask those important questions uniquely is something they will always be sure to remember.
Every blank .999 fine silver medallion or ingot is custom minted at our very own SilverTowne Mint in Winchester, Indiana. The obverse features a blank design with a reflective prooflike outline around a frosted area. The reverse depicts our standard non-dated design that will include the weight (ONE TROY OUNCE) and purity (.999 FINE SILVER) around a designated area that is also left blank.
Regardless of shape, your blank silver piece will arrive in a protective plastic capsule to ensure its safety during shipping. It will then fit snugly inside of a premium dark grey foam insert that fits directly into our in-house designed SilverTowne gift box with natural kraft paper made from recycled materials within the United States. Choose from a number of outer box sleeves to top this gift off. There are blank spots on the back to address your To/From message for convenience. No gift wrapping is needed making this already special gift even more unique!