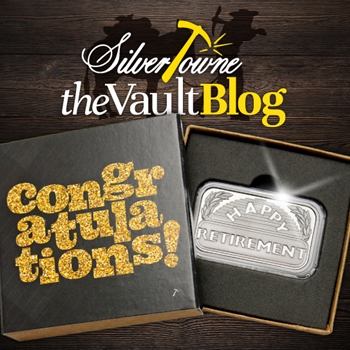 Retirement [ri-tahyuh r-muh nt] noun: the act of retiring or of leaving one's job, career, or occupation permanently, usually because of age.
The above is dictionary.com's definition of retirement. While we understand the last part, "usually because of age", is a little hard to hear, retirement is a major part of one's life and as the world keeps getting older, so does the retirement age for most. Regardless of age, retirement is a huge accomplishment and should be celebrated. Even if you are not the type who loves parties and balloons and cake (who doesn't like cake?), taking a trip or buying yourself something to recognize the years of hard work put in is necessary. No matter how you commemorate the occasion, take a second to pat yourself on the back because you deserve it!
If you know someone who deserves some recognition, well it just so happens that our Silver of the Month for July is here to help you out with your gifting needs. Not sure what the Silver of the Month is or how it works? Pay attention.
Do you like free shipping? Of course, you do. Do you like the opportunity to get silver without having to buy more than what you want? Who doesn't? Welcome to our unofficial official silver of the month club where you do not have to sign up or enter any more information than necessary. All you have to do as a loyal SilverTowne customer is scroll to the bottom right of the homepage to figure out what piece of silver is featured each month and boom, you are in!
Happy Retirement 1oz .999 Silver Bar Dated 2020
Exclusive to SilverTowne and minted at our very own minting facility in Winchester, Indiana, this .999 fine silver ingot is perfect for someone who is going to retire soon. The obverse of the bar features the words "HAPPY RETIREMENT" with a laurel wreath surrounding the design. The reverse features our standard current year-dated back with the weight (ONE TROY OUNCE) and purity (.999 FINE SILVER) displayed around the area designated for personal engraving.
This Happy Retirement silver ingot will come in a protective plastic capsule that fits snugly inside a premium dark grey foam insert. The foam insert directly fits inside of our in-house designed SilverTowne gift box with natural kraft paper made from recycled materials within the United States.
Complete your gift with a custom-fitted outer box sleeve at checkout. There are many options to choose from, including a black and gold option that features the word "Congratulations" on the outside. The packaging was specially designed for gifting in mind as there are blank areas on the back to personalize each piece. No gift wrapping is needed!