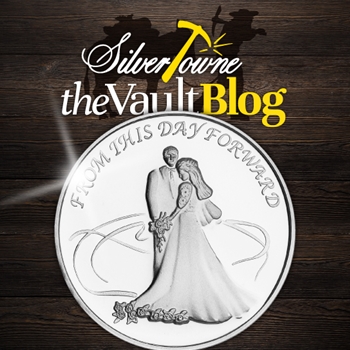 We are almost halfway through June already, and by already we mean HOW THE HECK? While the majority of this year has seemed to drag on due to the world digging its heels into the ground with the ongoing COVID-19 pandemic, the reality of the situation is that the year 2020 is half over and we are officially entering the summer months.
The summer months also mean the wedding season is in full effect and although it may not be as fully functioning as it usually is during this time due to obvious reasons, we are well aware that the majority of the population will be attending some sort of ceremony. With ceremonies, come gifts and well, we like to think we have you covered in that department.
While cash is always a great option for the happy couple, how about something a little more unique? While there are a number of silver bullion options available at our website that are categorized by ounces, shapes, and themes, keep in mind that weddings are definitely one of those special occasions we have a category for! The special day is a momentous occasion in most of our lives and deserves to be celebrated and remembered. While cash is great, it is not as personal as the gift of silver.
Custom minted at our very own facility in Winchester, Indiana, this .999 fine silver bullion round is exclusive to SilverTowne and available all year round!
The obverse of this specific wedding-themed medallion depicts a newlywed couple embracing each other with ribbons in the background. Roses are seen flowing with the bottom of the bride's dress while the words "FROM THIS DAY FORWARD" are featured along the top curve of the design. The reverse features our current year-dated design that includes the weight (ONE TROY OUNCE) and purity (.999 FINE SILVER) designation around a circle left blank for optional engraving.
Your silver medallion will arrive in a protective plastic capsule that fits snugly inside of our in-house designed premium dark grey foam insert. The insert will then fit directly into our in-house designed SilverTowne gift boxes with natural kraft paper made from recycled materials within the United States. Customize your wedding keepsake gift with a custom-fitted Wedding Day outer box sleeve or choose from a number of alternate packaging options at checkout! The outer box sleeves are designed to complete your gift with blank areas on the back for optimal personalization. No gift wrapping is needed!