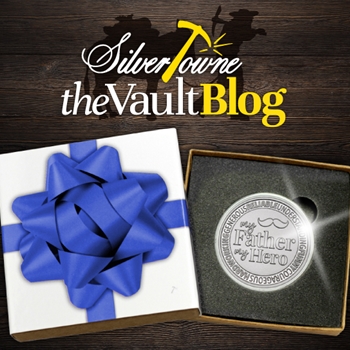 "Any fool can have a child. That doesn't make you a father. It's the courage to raise a child that makes you a father." - Barack Obama
Mother's Day has come and gone which means Father's Day is right around the corner. June 21st to be exact. While it may look a little different this year due to obvious reasons, it's never the wrong time to show your father, and your parents for that matter, just how much they mean to you. They raised you, showered you with love, and sacrificed themselves for you every day.
If you are looking for a different and unique way to say thank you, choose the gift of silver this Father's Day. Your dad is your superhero, your protector, and your loyal supporter, even when you go from being a child to being an adult. Our Father's Day silver medallion says all of that any more with the words "My Father My Hero."
Exclusive to SilverTowne and custom minted at our very own SilverTowne Mint, this one-ounce silver round is a perfect gesture to celebrate and appreciate all the men who proudly call themselves "father."
The obverse depicts a mustache with the words "My Father My Hero" inscribed on a matte background to the left. The rim has a reflective background and contains a number of words around the entire rim that describe a father, reading "RELIABLE, UNDERSTANDING, FUNNY, COURAGEOUS, HARDWORKING, GENEROUS." The reverse displays our standard non-dated back that features the weight and purity (ONE TROY OUNCE .999 FINE SILVER) around the blank area left for personalization.