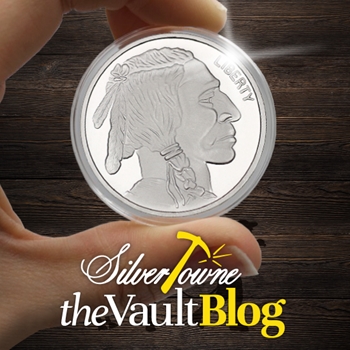 As you may already know if you are a SilverTowne customer and supporter, our silver bullion production has been streamlined to keep up with the demand during this difficult time. While this has limited your options temporarily, it has helped our shipping estimates and delays from the increased volume of orders we are continuing to receive.
One of those options in the one-ounce form has always been very popular throughout the years despite these unpredictable circumstances. First seen on Buffalo nickels, or Indian Head nickels, from 1913-1938, the design was created by James Earle Fraser and has been a favorite among numismatic coin collectors since its inception. The design itself utilized three different Native American subjects as models and the coin was minted at San Francisco, Philadelphia, and Denver.
Exclusive to SilverTowne and custom minted at our very own facility in Winchester, Indiana, the obverse of this .999 fine silver round features a replica of the Buffalo nickel. The word "LIBERTY" is still seen curved around the upper right rim of the design. The reverse, featuring yet another replica of the original Buffalo nickel design, depicts the image of the bison, or buffalo. The mottos "UNITED STATES OF AMERICA" and "E PLURIBUS UNUM" remain above the buffalo's image at the top of the design while the original "FIVE CENTS" at the bottom of the five-cent coin has been replaced with "1 OZ. .999 FINE SILVER" at the bottom of the silver medallion detailing the piece's weight and composition.
Currently, the popular design is available in multiple increments including a single piece, 3pc, 5pc, 10pc, 20pc, 100pc, and 500pc. All No Date Buffalo Replica Silver Medallions are shipping for FREE and packaging options are available for smaller increments if gift-giving is on your mind.