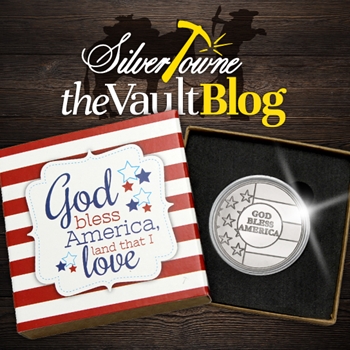 "We hold these truths to be self-evident, that all men are created equal, that they are endowed by their Creator with certain unalienable Rights, that among these are Life, Liberty and the pursuit of Happiness." - Beginning Line To the Preamble of the Declaration of Independence.
It is officially the election year and things are about to get hectic in the political landscape as they have already. Whether you are one or the other when it comes to your party, the one thing we all have in common is the color of our blood and the country in which we live: the United States of America. We, as a nation under God, must live up to the standards to which our Founding Fathers upheld when writing and signing the Declaration of Independence and further outlined in the Constitution of the United States. Long story short: God Bless America and everything it stands for!
So as the year gets started and February marks one month closer to election 2020, we have provided a Silver of the Month silver bullion option that allows you to be your true patriotic self this election year. Know someone who flies that American Flag with pride all year round? Have someone's birthday coming up that loves America and everything it stands for? Need a unique gift for that someone special? America themed? Check! Eye appeal? Check! Involves free shipping? Double-check!
Do you like free shipping? Of course, you do. Do you like the opportunity to get silver without having to buy more than what you want? Who doesn't? Welcome to our unofficial official silver of the month club where you do not have to sign up or enter any more information than necessary. All you have to do as a loyal SilverTowne customer is scroll to the bottom right of the homepage to figure out what piece of silver is featured each month and boom, you are in!
God Bless America 1oz .999 Silver Medallion
Nothing screams pride and honor for this country more than the words "God Bless America." Exclusive to SilverTowne, this one-ounce .999 fine silver medallion is custom minted at our very own SilverTowne Mint in Winchester, Indiana.
The obverse of the round features those brilliant words "GOD BLESS AMERICA" in bold letters on top of the stars and stripes of the American Flag. The reverse depicts our standard no-dated back with the weight and purity designation (ONE TROY OUNCE .999 FINE SILVER) displayed around the outer edge of the medallion. The area in the middle is specifically designated for engraving.
This silver round will arrive safely to you in a protective plastic capsule that fits snugly inside a custom dark grey foam insert. The insert fits perfectly in our in-house designed SilverTowne gift box with natural kraft paper made from recycled materials within the United States. To top off this patriotic gift, choose a fitted outer box sleeve that says "God Bless America, Land That I Love" on top of red and white stripes. There are also a number of alternative packaging options to fit your gifting needs. No matter the sleeve choice, no gift wrapping is needed as there is a specially designed area on the back for personalized messages!
GOD BLESS THE USA!