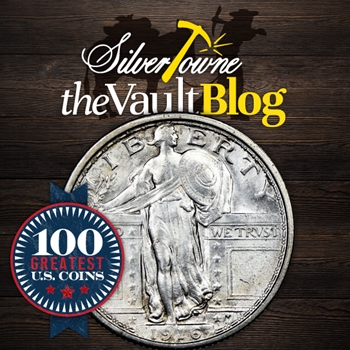 In the late 1890s, a new series of United States coinage was put into production. That series, comprised of halves, dimes, and quarters, was named after their designer, Charles E. Barber. While the Barber coinage was ultimately put into production by the United States Mint, its appeal was met with mixed reviews and in 1915, the Mint decided it best to retire the designs as their minimum circulation requirement was up. What was soon to follow is arguably one of the most popular and visibly appealing series of coins. Their production, beginning in 1916, immediately changed how coins were designed in the future.
In fact, in 2016, their 100th Anniversary was celebrated in 24kt gold by the Mint. Those coins? A Mercury dime and Walking Liberty half dollar, both designed by Adolph A. Weinman, and a Standing Liberty quarter which was designed by Hermon A. MacNeil. While all three have their fair share of positives, the Standing Liberty quarter design has made its way into Whitman Publishing's Fourth Edition of the 100 Greatest U.S. Coins publication. As explained by author Jeff Garrett with help from Ron Guth, we breakdown the iconic 1916 design from MacNeil in this continuing series.
#43 - 1916 Standing Liberty Quarter Dollar
The early 1900s found a very passionate plea by then-President Theodore Roosevelt to completely change up the landscape and look of United States coinage. He felt it necessary to freshen up designs artistically and the Barber series, in his eyes and others, was lacking in that realm. With a number of designs submitted by talented artists and sculptors, Hermon A. MacNeil was chosen for the redesign of the quarter dollar.
His initial 1916 design though was met with heavy criticism as it was perceived as too provocative as it displayed Lady Liberty partially nude. This was a first for any United States coin that was put into circulation and eventually in 1917, the coin was modified to appease those not in favor of MacNeil's too forward of thinking. Lady Liberty was given a coat of armor that would cover her up underneath her robe. While some thought the choice to cover her in armor was due to prudish views, others believed that the change symbolized our Lady Liberty's willingness to protect herself (our country) in times of war. In this case and at this time, World War I had been going on in Europe beginning in August of 1914.
However, in all technicality, the 1916 design did not meet the minimum requirement of circulation law that made it illegal to change major coin designs more than once every 25 years. While MacNeil's design was not supposed to be changed and produced until 1917, 52,000 Standing Liberty quarters were struck for circulation in 1916. This is the very reason that the 1916-dated design is very rare in today's market.
By 1930, the design had run its course as the already law-breaking start of its mintage made it okay to some that it would be replaced by the popular Washington quarter dollar in 1932, a design that is still in use today. This means that the Standing Liberty quarter would only be produced for 15 years, 1916-1930.
In 1960, MacNeil's 1916 Standing Liberty Quarter Dollar in Choice Uncirculated condition would bring $750. Today, according to the fourth edition of this publication, that same condition would bring $30,000.