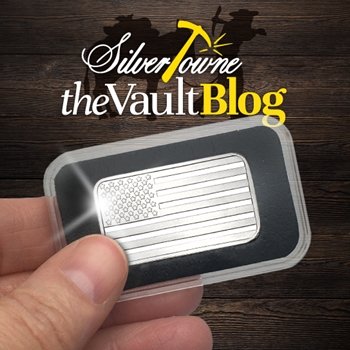 The Stars and Stripes never get old to look at. No matter which way you see them, an immense amount of pride surfaces for the truest of Americans.
We happen to know how important they are here at SilverTowne and that is why we have built an American Flag silver collection that we are incredibly proud of. So when we came across an old die at our very own SilverTowne Mint a while back that handed us an opportunity to make something old new again, we took it and ran.
Brand new (and old) is the half-ounce version of the popular one-ounce and ten-ounce option that flies off our shelf all year long: American Flag bars.
American Flag Half Ounce .999 Silver Bar
Custom minted right here in Winchester, Indiana, this new half-ounce .999 fine silver bar features all 50 stars and 13 stripes that make up the American Flag on the obverse. The whole bar itself has a matte appearance other than the alternating stripes where there would be a white stripe on an actual flag. Those stripes feature a polished and proof-like reflective surface.>
The reverse design is our standard, non-dated back that includes the weight and purity (HALF-OUNCE .999 FINE SILVER) around an area that is left blank for optional engraving.
Single pieces of this new half-ounce design arrive in a heat-sealed plastic unless specified (other option includes gift packaging for additional cost). Lots of 10 will arrive in a sheet much like our one-ounce options. Other than single piece options, the plain 0.5 Troy Ounce option can be purchased in lot sizes that include 1000pc, 200pc, 40pc, 20pc, and 10pc.