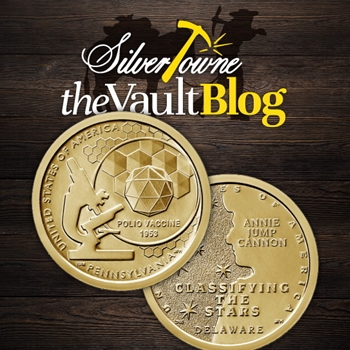 This Fall has been a whirlwind of United States Mint releases so far. Namely, the first two releases of the new American Innovation $1 Coin Program. September 19th marked the very beginning of the multi-year series that will honor innovation and innovators with $1 coins from each State, District of Columbia, Puerto Rico, Guam, American Samoa, U.S. Virgin Islands, and Northern Mariana Islands.
The first four were slated to be released in 2019 while their Proof and Reverse Proof counterparts were also on the production schedule. So far, Delaware and Pennsylvania have had their Philadelphia and Denver minted uncirculated versions released. In addition, the Mint dropped a 4-coin Proof Set earlier this month that featured all four coins with the mirror-like surface and minted at San Francisco.
The first state to be released was Delaware as it featured Annie Jump Cannon who is recognized as a Delaware-born astronomer who invented a system for classifying the stars. This system is still in use today. The reverse design features a silhouette of Annie Jump Cannon with a night sky and stars visible. The coin will also feature inscriptions reading "UNITED STATES OF AMERICA," "ANNIE JUMP CANNON," "CLASSIFYING THE STARS," and "DELAWARE."
Pennsylvania's reverse design recognizes the creation of the preventive vaccine for polio as it depicts "an artist's conception of the poliovirus at three different levels of magnification" that represents the research conducted. The inscriptions detailed on the coin feature the words "UNITED STATES OF AMERICA," "POLIO VACCINE," "1953," and "PENNSYLVANIA."
The obverse of all the $1 coins feature the standard depiction of the Statue of Liberty in profile view that will be on all the designs moving forward. The inscriptions "IN GOD WE TRUST" and "$1" will be visible while a privy mark that looks like a stylized gear to the left of the Statue of Liberty will represent the overall theme of the dollars, which is industry and innovation. The edge will be incused like previous dollar designs and will read "2019" with the appropriate mintmark to follow ("P" or "D"). It will also feature "E PLURIBUS UNUM".
Uncirculated finishes are released in rolls and bags by each branch, Philadelphia and Denver, of the Mint. New Jersey and Georgia are the last two to be released this year for the series.