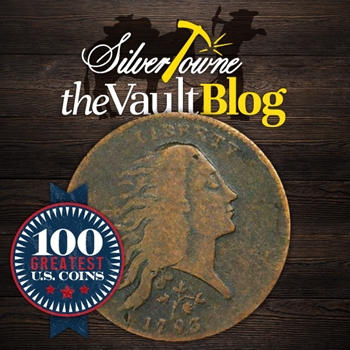 There is a term in the numismatic business that can change everything if you do not know that much about a specific coin or series. United States coinage has a rich history and even more so, a rare history when it comes to certain coins. Rarity can change how a coin is bought and sold and even sought after.
In the first post of our new blog series focusing on the top 100 Greatest United States Coins as explained in Whitman Publishing's book written by Jeff Garrett with Ron Guth, we will look at a coin that should have "rare" in its name. With the help of influential coin dealers across the country, the fourth edition of the publication will look to explain a variety type from the early 1790s that still does not have a definite designer or engraver assigned. Let us explain further.
#61 - 1793 "Strawberry Leaf" Flowing Hair, Wreath Reverse Large Cent
Regardless of the variety type, the 1793 Flowing Hair Large Cent, in general, is a rare coin. The fact that it was the first coin produced by the United States Mint using its own equipment and facility gives the coin a unique existence in itself aside from all the other layers attached to its rarity. So this Strawberry Leaf type mentioned on this particular top 100 list is tremendously rare.
It was believed that years ago that this particular variety were pattern pieces and not circulated coins although physical attributes (very worn) suggested otherwise. Standard Flowing Hair Wreath cents donned a three-leaved sprig just above the date on the obverse while the Strawberry Leaf features a cluster that looked like three strawberries to some. Hence, the unique variety name. Regardless of appearance, this variety looks completely different from the standard 1793 coin which made individuals believe that it had a different person behind the wheel if you will.
Another unique story behind the Strawberry Leaf large cent is the incapability to nail down a specific designer/engraver. Another numismatic publication (A Guide Book of United States Coins) attributes the design to Henry Voigt while another gives Adam Eckfeldt the credit. Although, it is also speculated that neither man was skilled or trained enough to engrave the dies for the coin. Another also believes that that reason alone suggests that it is possible that Voigt could have a hand in the die design based on the crude work that was done.
There have been only four examples known for the pure copper 1793 Strawberry Leaf Flowing Hair, Wreath Reverse Large Cent. In 1960, the coin in a fine condition was valued at $2,500.00. The first edition of this publication, which was released in 2003, marked the value at $200,000. This latest (fourth edition) publication values the type coin at $450,000.00.