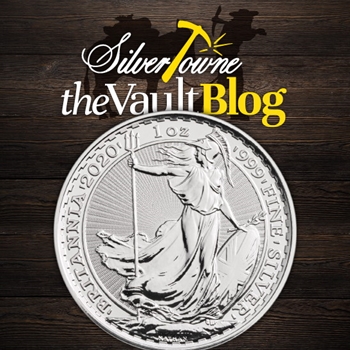 We pride ourselves on having a plethora of options when it comes to our very own SilverTowne minted silver bullion. But if what we have is not your thing and you prefer world mint products such as Royal Canadian Mint options like the Maple Leafs or the Predator Series Coins, China Pandas, Perth Mint options like the Kangaroo or Kookaburra, the South African Krugerrand, the Austrian Philharmonic, or the Great Britain Britannia, we also have you covered. As a matter of fact, we just received the 2020 Great Britain Silver Britannia 1oz BU coins and now you have the opportunity to get ahead for your 2020 world silver bullion collection!
The figure of Britannia first appeared on the coins of Emperor Hadrian over 2,000 years ago. While the Roman Empire expanded, provinces that were conquered were embodied with female figures as a means of establishing order and providing a sense of unity. The Roman army eventually reached British shores.
Ever since the reestablished British coinage in 1672 during Charles II's reign, Britannia made her appearance on coins of every monarch afterward. Her mere presence symbolizes a rallying point during times of crisis or celebration as she embodies national pride. Highly recognizable to the world, Britannia is a pure symbol of British minting. Henceforth, the very first Britannia bullion coin was struck in 1987 and has been revered ever since.
2020 Great Britain Silver Britannia 1oz BU
Designed by sculptor Philip Nathan, the £2 (2 Pound) silver bullion coin features Britannia in a firm standing position in which she is seen using her shield and Corinthian helmet against a powerful gale on the reverse. She is also seen gripping an olive branch in her left hand. The obverse of the popular British Government-backed design features the effigy of Her Majesty Queen Elizabeth II in the center of the round while the face value denomination can also be found displayed.
The 2020 Britannia sovereign coin contains one Troy ounce of .999 fine silver and is available in a number of different lots including but not limited to single pieces, 5pc, 10pc, 100pc, and 500pc.