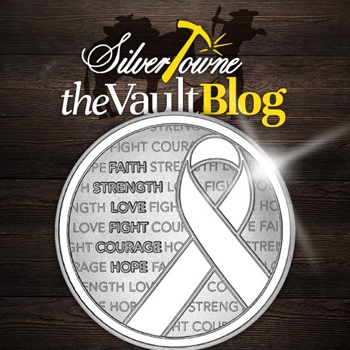 "Everyone knows someone who…" Unfortunately, there are a number of ways to finish that sentence in today's society. While that may be true, we are focused on only one way of finishing it and that is "...who has or has had cancer or a deadly disease." The sad fact is, this rings very true for most Americans and really, everyone in the world. Cancer does not and will not discriminate.
September is Ovarian Cancer Awareness Month within the United States and, according to the CDC, causes more deaths in women in one year than any other cancer in the reproductive system. The National Cancer Institute reports that 22,530 new cases of the hard to diagnose cancer has been estimated for 2019. They also report that the estimated deaths in 2019 will be 13,980. Ovarian Cancer is rare and it has been found that women who have a family history of the disease are at higher risk.
The National Ovarian Cancer Coalition reports that one in every 78 women will be diagnosed with the deadly disease as early detection tests do not exist and your typical pap smear procedure does not detect cancer. The NOCC focuses its campaign for spreading awareness about this terrible disease by simply spreading the word on earlier symptoms, genetic predisposition, and the lack of early detection testing in the medical field.
Teal Ribbons Supporting Other Causes
Teal ribbons are most commonly known for spreading awareness about Ovarian Cancer. Other cancer-related illnesses and diseases that use this color ribbon are but not limited to Anxiety Disorder, Dissociative Disorders, Gynecological Cancers, Cervical Cancer, Polycystic Ovarian Syndrome, Uterine Cancer, Vulvar Cancer, Tourette's Syndrome, and more.
Show Your Support With Silver
Custom minted at our own SilverTowne Mint in Winchester, Indiana, these .999 pure silver bullion rounds are exclusive to SilverTowne. With an obverse that features an awareness ribbon atop the words "FAITH, STRENGTH, LOVE, FIGHT, COURAGE, AND HOPE" in bold letters, these words alone stand for encouragement and support. The reverse features our standard non-dated design with the weight and purity designations of "1 Troy Ounce .999 Fine Silver" encompassing a 'blank' area designated for personalization with optional custom engraving.
Spreading awareness with the unique gift of silver is truly a once in a lifetime experience. Developed over the past year by an experienced in-house team, this recent addition to our special occasion silver is truly something to be proud of. Commemorate those you love with such a powerful message of support and hope while spreading awareness with this special piece.
As our custom packaging completes your gift, choose from a number of outer box sleeves that are available to accompany your gift for easy and convenient giving. Gift wrapping is no longer needed with this option. With the addition of a natural kraft gift box made with recycled materials within the USA, your silver bullion awareness ribbon medallion will fit snugly within a fitted plastic capsule that is cradled by a custom foam insert.