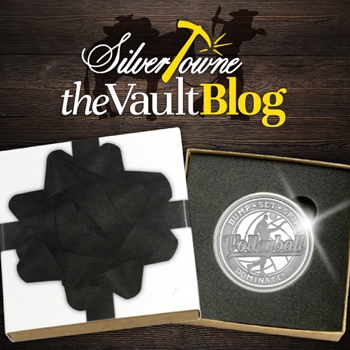 If you frequent our Vault Blog, you will recall a Fall Sports silver-themed post that talked about all of our available options for that athlete in your life. It is true that we have you covered when it comes to all the different sports, but if you specifically have the bump, set, spike queen on your hands, we have you covered in an even bigger way. The volleyball themed one-ounce silver bullion medallion just happens to be our Silver of the Month. If you are not sure why that matters, pay attention.
Do you like free shipping? Of course, you do. Do you like the opportunity to get silver without having to buy more than what you want? Who doesn't? Welcome to our unofficial official silver of the month club where you do not have to sign up or enter any more information than necessary. All you have to do as a loyal SilverTowne customer, is scroll to the bottom right of the homepage to figure out what piece of silver is featured each month and boom, you are in!
"Got it!" "Mine!" You will be using those volleyball terms when purchasing this beautiful silver medallion for that year-round athlete that is looking to score big this season!
Custom minted at our very own SilverTowne Mint in Winchester, Indiana, this .999 fine silver bullion round is exclusive to SilverTowne. The obverse depicts a volleyball player striking the ball in the center of the round in addition to the word "Volleyball" featured in classic lettering. The motto "BUMP•SET•SPIKE, DOMINATE!" is seen around the top and bottom of the outer rim of the design. The reverse features our standard non-dated back with the weight and purity (ONE OUNCE .999 FINE SILVER) displayed around the outer edge of the silver piece as there is a specially designed area in the middle for optional engraving.
Your commemorative piece will be shipped to you in a protective plastic capsule to ensure it arrives safely. It will then fit snugly inside of our SilverTowne gift box made with natural kraft paper from recycled materials within the United States. A custom dark grey foam insert will hold your silver medallion to keep it in place. Top your Silver of the Month purchase off with a custom, in-house designed outer box sleeve available from our many designs. Choose a green, yellow, black, red or whatever school color appropriate bow you need to make this one-of-a-kind gift a keepsake to remember this sports season!
Whether your star volleyball player dominates the net blocking, spiking, or setting or spends their time on defense, this silver bullion piece is the perfect way to commemorate the beginning or end of a great season!
Your Volleyball Bump, Set, Spike, Dominate! Silver Medallion will arrive in a protective plastic capsule inside of our SilverTowne gift box with natural kraft paper made from recycled materials in the USA. A premium dark grey foam insert holds your silver round snug inside the box. Topping off the gift box is a custom fitted sleeve featuring a green bow; with several sleeve designs available, see below for alternate packaging options to choose from! Try matching the bow colors to school/team colors to make the gift more meaningful.