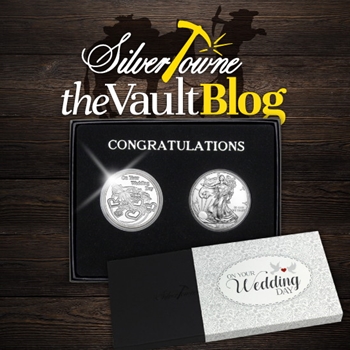 Wedding season is still in full bloom and will continue into the late fall as the bouquets get thrown and the garters get tossed to next season's happy couples. Memories will get made (some good, some bad), money will get spent, and gifts will be given.
If you are someone that has been a part of or have attended multiple weddings this year, it can be frustrating trying to figure out something to gift the newly wedded couple. Sure, there are the registries and they are pretty telling as to what you should give them, but honestly who needs a blender that badly?
Originality in gift-giving is our forte and this wedding season, SilverTowne has your back. Want something memorable, unique, and simple that no one else will think of? Silver bullion is it!
Do you want to up the ante with this perfect gift? Single bullion pieces are great, but you may be wanting to reach a certain price point to make the gift worthwhile and you just have not reached it yet. This 2pc gift set is exactly the thing you need all while remaining budget-friendly.
This congratulatory gift is comprised of two troy ounces of .999 fine silver. One half of this set, On Your Wedding Day Hearts one-ounce medallion, is custom minted at our very own SilverTowne Mint in Winchester, Indiana. The obverse features the words "On Your Wedding Day" while being surrounded by hearts, flowers, and ribbon. The reverse has our standard 2019-dated back as the weight and designation (ONE TROY OUNCE .999 FINE SILVER) are featured at the top around the outer edge of the design. The year "2019" is shown at the bottom of the outer edge while there is also a blank space in the middle designated for engraving.
The second portion of the set is a current-year dated 2019 American Silver Eagle issued from and backed by the United States Government with a $1 Face Value.
Custom Packaging and Engraving
Each silver bullion round will come in a protective plastic capsule that fits snugly inside a velvet two-hole insert. The mat itself is foil-stamped and featured on a number of different mat colors that unfortunately, we cannot guarantee as far as the color you will receive. Colors available are black, green, red, maroon, and blue.
Your gift will come in a special in-house designed SilverTowne black gift box that has been made in the USA. To finish it off, there are a number of custom outer box sleeves, including our elegant Wedding Day design, to choose from. The sleeve is specifically designed with a blank area on the back to write a personalized message to the happy couple. No gift tags or wrapping paper is needed!
The final step in this perfect gift is engraving! The wedding-themed silver bullion round is available for engraving to show the bride and groom just how much you care by creating a message in 40 characters or less! Make it a cherished keepsake they will hold onto forever and look back at when remembering their special day!