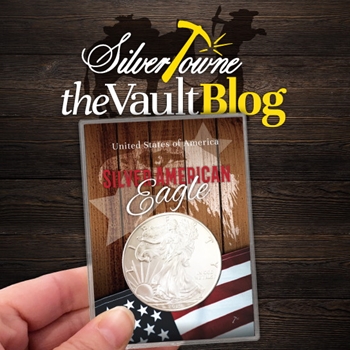 It is time to celebrate this nation's Independence Day once again and we have the perfect way to do it! Yes, fireworks and backyard barbeques are pretty fantastic, but how about trying something a little different this year?
Patriotic silver is available year round, but we wanted to emphasize its beauty even more so due to the 4th of July. Our nation's freedom is important to us and our patriotic silver collection represents that and more.
2019 American Silver Eagle BU in Patriotic Flag/Eagle Gift Holder
Quick: what is more patriotic than our very own American Silver Eagle from the United States Mint? Perhaps nothing! That is why we developed a complete line of in-house designed Silver American Eagle gift holders for any occasion. More specifically, we developed a patriotic line for one of our many holidays that celebrate the United States of America. The Patriotic Flag & Eagle gift holder is just one of many of those examples.
This exclusive design features the words 'United States of America Silver American Eagle' on top of a rustic wood background. It also features an eagle silhouette and an American Flag. The foam insert itself fits within a special plastic snap gift holder and is perfect for someone who is interested in American Silver Eagles or just wants to share their passion for bullion and coin collecting.
No gift wrapping is needed for these gift holders as there is a specially designed space on the back for personalized messaging. What is even better is that they are MADE IN THE USA! It is the PERFECT gift!
God Bless America 1oz .999 Silver Medallion
Nothing screams pride and honor for this country more than the words "God Bless America." Exclusive to SilverTowne, this one-ounce .999 fine silver medallion is custom minted at our very own SilverTowne Mint in Winchester, Indiana.
The obverse of the round features those brilliant words "GOD BLESS AMERICA" in bold letters on top of the stars and stripes of the American Flag. The reverse depicts our standard no-dated back with the weight and purity designation (ONE TROY OUNCE .999 FINE SILVER) displayed around the outer edge of the medallion. The area in the middle is specifically designated for engraving.
This silver round will arrive safely to you in a protective plastic capsule that fits snugly inside a custom dark grey foam insert. The insert fits perfectly in our in-house designed SilverTowne gift box with natural kraft paper made from recycled materials within the United States. To top off this patriotic gift, choose a fitted outer box sleeve that says "God Bless America, Land That I Love" on top of red and white stripes. There are also a number of alternative packaging options to fit your gifting needs. No matter the sleeve choice, no gift wrapping is needed as there is a specially designed area on the back for personalized messages!
GOD BLESS THE USA!