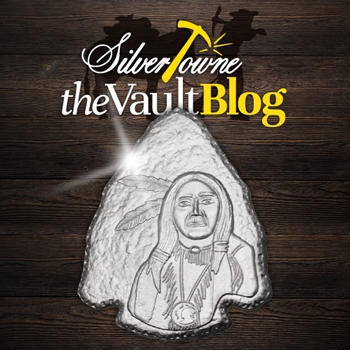 In the Midwest as a kid, speaking from personal experience, walking the harvested fields in the fall for neat rocks and arrowheads was something of a regular occurrence. When you found something it was a big deal and you ran back to your house to show everyone that would listen the artifact you found as an amateur archaeologist. Once again, speaking from personal experience.
It's the childlike wonder in all of us that appreciates a good find after digging in the dirt that leads us to believe that a unique silver bullion piece commemorating that wonder is a great choice. SilverTowne has obliged and our customers have followed suit in their personal pursuit to collect a wide variety of silver bullion. We have done this in the form of our Indian Arrowhead Shaped .999 fine silver medallion.
Indian Arrowhead Replica 1 Troy Ounce .999 Fine Silver Bullion
Perfect for collectors, history buffs, or archaeological enthusiasts, this .999 fine silver replica is custom minted at our very own SilverTowne Mint in Winchester, Indiana. The obverse features a portrait of an Indian/Warrior Chief on a hammered relief background. The reverse depicts our standard non-dated design that reads the weight and purity designation (ONE TROY OUNCE .999 FINE SILVER) below the blank area left for engraving.
Your unique Arrowhead silver piece will come in a custom fitted protective plastic capsule that comes with a specially made black insert within the capsule to hold it in place. The silver bullion piece will then fit snugly inside a custom-fitted foam insert inside our in-house designed Silvertowne gift box made with natural kraft paper made from recycled materials in the USA.
Top off your gift with a custom-fitted outer box sleeve from our many available designs and complete your gift giving with style! There is a designated area on the back of the sleeve that is specifically designed for personal messaging. No gift wrapping is needed!