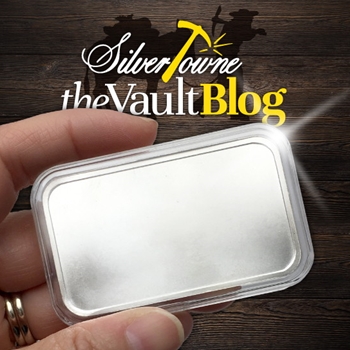 Options, options, and more options. We pride ourselves on having them. We encourage them and we make it a priority to have them. But in this observation, we also understand that sometimes too much can be overwhelming and with this understanding is a solution.
Our customers are important to us and when they suggest or ask for something specific in the silver bullion world, we listen. Enter the blank bars and rounds collection.
Blank silver bullion is essentially a blank canvas sans the paint--and the canvas. The idea behind it is complete customization and personalization. No themes, no preconceived ideas, no dictation of what you should say. Essentially, we give you the pen and you take it from there.
Blank Design 1oz .999 Fine Silver Medallion/Bar
Custom minted at our own SilverTowne Mint, these exclusive one-ounce .999 silver bullion pieces have been crafted to accommodate those who have something to say in more than 40 characters. Say whatever you want to say to that someone special as these bars and rounds are specifically designed with custom engraving in mind. You get to customize the back AND the front of the silver!
The obverse of both the rounds and bars feature a blank design with a reflective outer edge around the frosted area in the middle for engraving. The reverses are made up of our standard non-dated design that features the weight and purity (ONE TROY OUNCE .999 FINE SILVER) around the outer edge while the center area remains designated for engraving as well.
Blank Design 5oz .999 Fine Silver Bar
Do you want all the custom engraving abilities of the one-ounce silver pieces but on a much larger scale? Done! Due to popular customer demand, available now are five-ounce blank .999 fine silver bars that feature a blank back AND front to ensure maximum personalization!
The obverse of the bar features a blank design with a reflective border around the frosted area that is left for engraving. The reverse depicts a non-dated back that includes the inscription "FIVE TROY OUNCES .999 FINE SILVER" to designate the weight and purity meanwhile leaving the remainder rectangular area blank for engraving.
Custom Packaging and 2pc Gift Sets
All of these options will arrive in a protective capsule that fits snugly inside a custom foam insert within our SilverTowne gift box with natural kraft paper made from recycled materials within the United States. To top off the gift, choose between several designs of outer box sleeve from the many available options at check out and make it easy on yourself. There is a specially designated area on the back of the sleeves to personalize your message. No gift wrapping is needed!
Want to make your gift a little more special? Select a two-piece gift set that includes a blank silver bullion piece as well as a United States government issued 2019-dated American Silver Eagle in BU condition to commemorate a special achievement or award. Each silver piece will come in a protective plastic capsule that fits perfectly into a two-piece mat and SilverTowne gift box. These gift sets also come with custom packaging and several outer sleeve options so that gift wrapping is already taken care of.
Engraving
Make your silver bullion pieces, whether one-ounce bars and rounds or a five-ounce bar, completely your own with the option to engrave on BOTH the obverse and reverse! Enscribe personal messages, dates, names, and more. These personal, one-of-a-kind gifts are a popular choice due to the versatility of having both sides available to engrave. Make this a memorable treasure for someone special in your life!