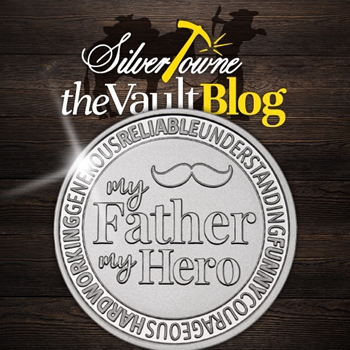 "When my father didn't have my hand, he had my back." -Linda Poindexter
A couple of weeks away is the second holiday this year that is aimed at recognizing our parents. Mother's Day has already passed which means Father's Day is not far behind.
Our fathers, as a whole, are the standard we hold all men to as daughters and who most sons want to replicate in their impending fatherhood. They mean a lot to us as any man can have a child, but it takes real strength and courage to be a father.
This June, show every man who stepped up just what they mean to you by gifting them something special: silver bullion.
"My Father My Hero"
Exclusive to SilverTowne and custom minted at our very own SilverTowne Mint, this one-ounce silver round is a perfect gesture to celebrate and appreciate all the men who proudly call themselves "father."
The obverse depicts a mustache with the words "My Father My Hero" inscribed on a matte background to the left. The rim has a reflective background that describes a number of words around the entire rim, reading "RELIABLE, UNDERSTANDING, FUNNY, COURAGEOUS, HARDWORKING, GENEROUS." The reverse displays our standard non-dated back that features the weight and purity (ONE TROY OUNCE .999 FINE SILVER) around the blank area left for personalization.
Custom Boxes and Personalized Engravings
To make this a gift to remember, your silver bullion piece will arrive in a protective plastic capsule that fits snugly inside our very own SilverTowne gift box made from recycled materials. A foam insert will ensure the safety of the medallion reaching its destination as it is custom fitted inside the box. To make this an even better keepsake, we also include in-house design outer sleeves that have a designated blank spot of the back for more personalization. No gift wrapping is needed! Choose from a number of available designs upon checkout.
But wait, there's more?!?! Absolutely! Show that superhero of a man in your life just what he means to you in 40 characters or less by choosing the engraving option! Don't miss a chance to tell dad how much you care!
Gift Sets for Dad
Great for a Father's Day Gift, choose from a custom minted SilverTowne silver bullion round or bar in our Father's Day themed bullion collection with an engravable back in addition to a current year-dated 2019 American Silver Eagle BU issued from the United States Government to create a personalized 2pc gift set! Each silver piece is guaranteed to be in a protective capsule.
These bullion pieces will arrive in a mat stamped with a silver foil reading "Happy Father's Day" on a number of different colors (These cannot be guaranteed). Finish the perfect gift with a box and an outer sleeve of your choice and you are done! No gift wrapping is needed!