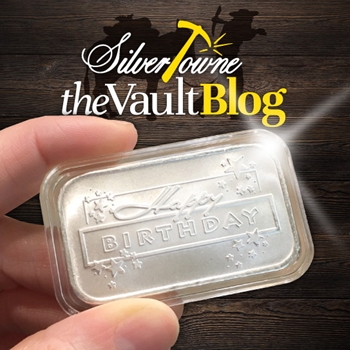 We do not know about you, but it feels like every other day a birthday celebration is in the works here at SilverTowne. So it is quite fitting that we work at a place that when a "Happy Birthday!' is in order, we have a gift idea within arms reach: silver bullion! As we enter the middle of May, our silver of the month just happens to reflect the importance of birthdays. What is this thing called silver of the month you ask? Well, let us explain.
Do you like free shipping? Of course you do. Do you like the opportunity to get silver without having to buy more than what you want? Who doesn't? Welcome to our unofficial official silver of the month club where you do not have to sign up or enter any more information than necessary. All you have to do, the loyal SilverTowne customers, is scroll to the bottom right of the homepage to figure out what piece of silver is featured each month and boom, you are in!
Happy Birthday Stars 1oz .999 Silver Bar Dated 2019
Exclusive to SilverTowne, this one Troy Ounce of .999 fine silver bar is custom minted at our very own SilverTowne Mint in Winchester, Indiana. Perfect for celebrating that next friend or family member's birthday, this ingot design screams "let's party!"
The obverse features an elegant inscription reading "Happy Birthday" with floating stars surrounding either side atop a frosted design. The reverse displays a designated blank area for customizable engraving with our standard current year-dated back in addition to the weight and purity description (ONE TROY OUNCE .999 FINE SILVER).
To ensure your Happy Birthday Stars silver bullion bar's safety, it will arrive in a protective plastic capsule that fits tightly inside a custom-fitted foam insert. This insert fits snugly down inside our in-house designed SilverTowne gift box with natural kraft paper made with recycled materials within the USA.
Want to make this a memorable keepsake for that special someone's birthday milestone? No problem! Finish the gift off with a custom-fitted colorful outer sleeve that says "Celebrate!" or choose from a number of available design and packaging options when you check out! No gift wrapping is needed!
If you are thinking even further ahead, take one more step in really personalizing your gift by choosing our engraving option. Show that birthday boy or girl how much you really care about them in 40 characters or less! Engrave names, dates, or short, personalized messages to make it something they will never forget! It's the icing on the cake!