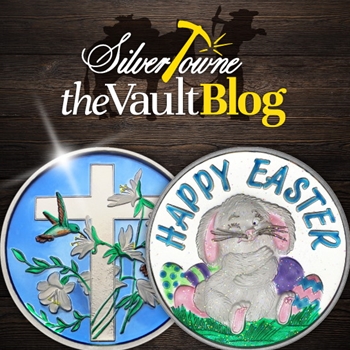 Easter Sunday is fast approaching (April 21st to be exact) and thus begins the traditions that occur during the Resurrection of Our Lord and Savior Jesus Christ.
Dying eggs, Easter egg hunt, candy galore, family dinners, church services and baptisms, visiting the Easter bunny, classic movies like Peter Cottontail, etc. Traditions on Easter Sunday are just as ripe as any holiday. But let us not forget the Easter basket tradition filled with chocolate bunnies, Peeps, marshmallow eggs, and fun games. Do you know what else would go perfectly in an Easter basket filled with goodies? Silver.
Easter Themed Silver Bullion
Tired of sending your kids into a sugar coma every Easter? Would you rather gift your grandkids something collectible and valuable instead of contributing to future cavities? SilverTowne can help as we have all your gifting needs in mind and find that keepsakes are the IN trend right now. (We may be biased.)
Happy Easter Bunny Rabbit
Struck at our custom minting facility in Winchester, Indiana, this 1 Troy ounce .999 fine silver medallion is available in plain or enameled silver. Exclusive to SilverTowne and Made in the USA, the obverse features the words "Happy Easter" atop a reflective background with a chipper winking rabbit sitting with decorated Easter eggs. The reverse features our standard current year-dated back with the weight and purity designation of "ONE TROY OUNCE .999 FINE SILVER" displayed around the area that is blank for optional, personalized engraving.
Your plain or enameled silver round will arrive in a protective plastic capsule that fits snuggly within a custom fitted insert. The insert will fit perfectly inside our in-house designed SilverTowne giftbox with natural kraft paper made from recycled materials within the USA. The best part? Choose a custom fitted outer box sleeve, like a pink or blue ribbon, from many of the designs available to make this gift complete! Write your child's, grandchild's, niece's, nephew's, etc name on the back in the designated area and it's a 'wrap'! No need for gift wrapping!
Religious Themed Silver Bullion/2pc Gift Sets
Also available are religious-themed silver bullion in bars and rounds. In addition to one-ounce options, there are also two-piece Silver American Eagle gift sets that will include a 2019-year dated Silver American Eagle coin and your choice of a silver bullion piece to fit your personalized gift.
Packaging/Engraving
Packaging options are available in many different configurations with the added option of engraving! Take personalized, one-of-a-kind gifting to the next level in 40 characters or less! Make your gifts extra special with value you cannot put a price tag on!