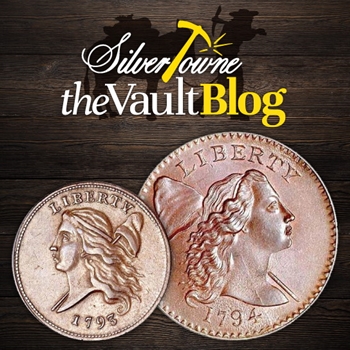 Chief Engraver of the United States Mint. It has quite the ring to it, doesn't it?
As the position holds rank as the highest staff member at the United States Mint, the title historically describes someone who is in charge of coin design and engraving at all four mints located across the United States: Philadelphia, Denver, West Point, and San Francisco. Created by Congress with the Coinage Act of 1792, the position was placed within the Department of Treasury and could only be filled with a presidential appointment.
But as only 12 individuals officially have held the title since its creation (most recently a 13th was named on February 4th), there could be an argument for the very "unofficial" first engraver in that of Joseph Wright.
Joseph Wright's Early Years
Born in Bordentown, New Jersey, in 1756, Wright was one of four children to Patience and Joseph Wright, Sr. As his father passed in 1769, his mother's career in portrait modeling with wax became successful as she picked up her family and moved to London in 1772 to apply her trade.
Wright, who never showed interest in anything let alone art, began picking up artistic trades and talent during his tenure in London so much so that he decided to officially pursue a career in 1775. Attending the Royal Academy of Arts in Somerset House as the first American from 1775 to 1781, it was shortly after in 1781 that he followed his mother to Paris where he would produce and sell at least seven Benjamin Franklin portraits who was living in Paris at the time. Although attempted by Patience to have the great politician sit for her son, Franklin refused and Wright was forced to use another painting by Joseph Siffred Duplessis to work his own portraits. Four of Wright's works of Franklin continue to live in museum collections today.
Wright Returns Home
While living overseas for many years, Wright decided to book a trip home but found that someone else had already been unofficially pronounced as the portrait painter of choice in Philadelphia. Wright, determined not to give up, somehow got Congress to pay for a bust of Washington for an equestrian statue. Washington was also willing to sit for Wright where he was able to produce an oil painting.
He would later produce 11 more paintings of the first President of the United States and then considered himself successful for having both Franklin and Washington in his repertoire. As Congress decided to move to New York City in 1785, Wright followed and later married his wife, Sara, in 1789, and they ended up with three children. While in New York, Wright produced numerous portraits of Revolutionary War heroes and as Congress once again decided to change locations in 1790 while trekking back to Philadelphia, Wright followed and his productivity declined considerably.
Joseph Wright at the US Mint
As his own ventures of portrait painting were not quote on quote "paying the bills", Joseph Wright started working for the mint in 1792. During his stint, Thomas Jefferson commissioned Wright to produce the dies that would create a medal to be given to Henry Lee, a war hero that was left out when gold medals were designed, struck, and presented to a number of war heroes from the Revolutionary War by the Paris Mint. It was only later that this forgotten hero, who fought in the Battle of Paulus Hook, New Jersey, would turn out to be the father of Robert E. Lee. The medal was struck and signed J.Wright.
During his time at the mint, Wright was to have also to claimed that he engraved a two quarter-dollar die that broke during hardening, but it is unclear what the design of the die was and if it withstood the time gone by. In early 1793, the striking of copper coinage began and the development of chain cents and wreath cents took much of the mint's time. Both dies were produced by Henry Voigt, who was the chief coiner temporarily at the time.
Due to such a temporary position, Jefferson wanted to hire one person to be both an engraver and chief coiner as a way to save money. After searching for quite some time, both Jefferson, in addition to Washington, had plans on naming Wright to the position in July until Congress decided to once again go back in session at the end of the year. The problem with this plan? There is no record or proof that this is what happened. With the number of coins designed and struck during the year of 1792, it has been found that there is only one coin that could have been possibly engraved by Wright: the Liberty Cap cent. Once again, the appointment of Wright to the engraver position was never proven and from the outside looking in, the first United States Mint engraver never produced any dies.
Joseph Wright's Later Years
In the summer of 1792, a large ship carrying around 1,000 refugees was received in Philadelphia. It was found that some of these persons carried yellow fever and proceeded to wipe out the population of the city. Wright, amongst many government workers who decided to flee the city, decided to stay with his family and in turn, both him and his wife came down with the fatal disease. Wright officially passed on September 13, 1792, at 37 years young along the same time as his wife. His estate was paid $233.33 for the medal dies created for Lee but only that as his dies that broke received nothing.
It was around a month later when Washington and Jefferson decided to name a new engraver in place of Wright and hence, the first official Chief Engraver of the United States Mint was selected in that of Robert Scot in November of 1794 while his official appointment occured in December. While Wright was referred to by Washington and Jefferson as "our Engraver", it is still unknown if his appointment was ever made official. As his unofficial naming as engraver took place in July, his tenure as Chief Engraver was short lived as his death followed in September.
(Sources: Eckberg, William. "The Tragic Tale of Joseph Wright." The Numismatist (February 2019); "Chief Engraver of the United States Mint." )