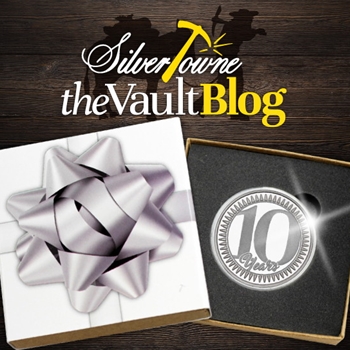 Class reunions. Relationships. Sobriety. Children. A lot can happen in 10 years.
Meaningful moments call for meaningful ways to commemorate them regardless of the ups and downs that we all know occur during such a long duration of time. So why not choose silver: the gift that continues to keep giving during the next decade?
Celebrate a Decade in Silver
Do you know a child turning 10 this year? Why not get them into collecting with a celebratory silver piece commemorating their birthday? With younger generations, it's our duty as older generations to get young adults interested in the things we have ourselves invested so much time in. Precious metal and numismatic collectors truly know the value of owning silver and in this world's current climate, it may be worth investing our time into teaching our young children ways of protecting their special pieces as well. While gifting them this special silver round, you also get to pass along all the reasons you love the hobby. Win-win?!?!
Perhaps the last 10 years has been a rough one. We all know someone going through this life with an addiction of some kind. Are they getting ready to celebrate the hardest, yet most rewarding 10 years of their life? Sobriety is an incredible achievement and one not to be taken lightly. In an addict's world of chips for days/months/years of being sober, why not gift that person a piece of silver that reminds them of the value and investment they have put into the last decade of their life?
As already mentioned, A LOT can happen in 10 years. There are a tremendous amount of life events that can be celebrated and should be celebrated. Gifting silver can increase one's wealth and knowledge. What does not sound good about those two things while giving your close family and friends a piece of both all the while passing along a piece of what you love as well?
Celebrate 10 Years With Silver
Custom minted at our own SilverTowne Mint in Winchester, Indiana, this made in the USA .999 pure silver bullion piece is exclusive to SilverTowne. The obverse features the number "10" and "Years" with a festive star-burst lining the outer edge of the round. The reverse depicts our standard current year dated back with the weight and purity designated ("ONE TROY OUNCE .999 FINE SILVER"). The reverse also allows for personalized engraving.
This special round will arrive in a capsule and an in-house designed SilverTowne gift box wrapped in natural kraft paper made with recycled materials. A custom fitted foam insert lines the inside of the box while a custom fitted sleeve allows for a complete finish to your packaged gift. Alternative packaging options are available as well as engraving options to allow your gift giving to be as personalized as possible.