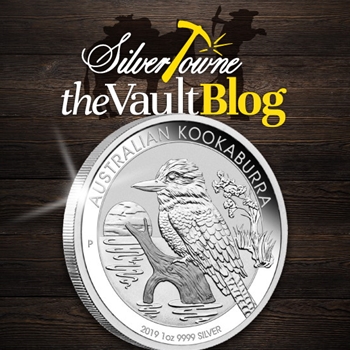 Taking flight into the new year is the 2019 P Australia Silver Kookaburra!
This distinguished 1 Troy ounce bullion piece contains .9999 fine silver and happens to be Perth Mint's longest-running silver coin starting in 1990.
A national symbol of Australia's birdlife, the kookaburra is one of the largest species in the kingfisher family and is known for its unusual birdcall that sounds like laughter. The popular bird has been portrayed on the reverse of the pure silver coin with a new design every year.
30th Year Series Release
In its 30th release this year, the 2019 P Australia 1oz Silver Kookaburra coin depicts the bird perched on a branch coming out of the water. With a sunset in the background (or sunrise depending on interpretation), the Perth Mint's 'P' mintmark makes its way into the design at the 9 o'clock position along with the year date at the bottom lining the edge.
The obverse features the newly updated Jody Clark's effigy of Her Majesty Queen Elizabeth II. Backed by the Australian government, a $1 face value is given to each coin and is set to fit securely in a capsule provided by the Perth Mint. Along with the 2019 P Australia Kangaroo piece, the kookaburra was also switched from containing .999 to .9999 pure silver in 2018.