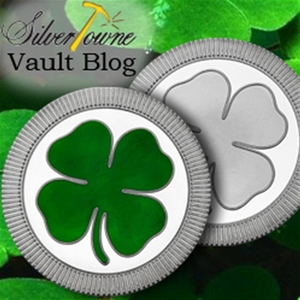 Four Leaf Clovers have always been a highly popular design from The SilverTowne Mint so we decided to upgrade the design with our exclusive SilverTowne Stackables™ outer rim dies! With this newest release of special occasion silver from SilverTowne, it is the first stackable version of a silver round that we've made have an engravable back, plus we're offering them enameled as well. With a simple dark green color and the protective clear-coat, these clovers will stand out in your collection or make a memorable gift.
According to tradition, 4-Leaf Clovers can bring good luck to their owners! Regarded widely as a lucky symbol, each leaf is also said to represent different things: first is for faith, second for hope, third for love, and fourth for luck. Supposedly for every 10,000 clovers, (three-leaf clovers are the most common) just 1 has four leafs - hence the rarity and good luck it is to bring its finder! The four leaf clover is also a commonly used symbol for organizations and businesses such as 4-H.
Silver Rounds 1 Ounce Stackable Rim
Minted in three 9s (.999) fine silver bullion, these silver rounds are guaranteed to be 1 Troy Ounce in weight of Pure Silver. Minted in the USA by The SilverTowne Mint located in rural Winchester, Indiana each medallion features the Stackable™ rim which is exclusive to SilverTowne that makes them unique in style and are easily stacked high to display or store! This is the first stackable version that has a customizable engravable back; personalize your silver with your own special message for someone special as a truly unique gift that will always have a value in silver! Silver as a gift is a great way to educate future silver stackers and numismatists about this unique world of precious metals!