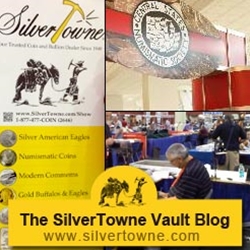 2015 CSNS Convention
The Central States Numismatic Society (CSNS) annual convention is one of the leading numismatic events in the United States each year. The CSNS 76th Anniversary Convention will be held from April 23-25, 2015 at the Renaissance Hotel & Convention Center in Schaumburg, IL (a large northwestern suburb of Chicago). The convention features a robust bourse floor of more than 250 booths operated by leading dealers that come from no less than 40 states across the country. The event is free to the public.
SilverTowne is a proud sponsor of the CSNS 76th Anniversary Convention, continuing a long history of such sponsorship. SilverTowne founder, Leon Hendrickson, also served as CSNS President from 1986-1988. If you attend the 2015 convention, be sure to stop by and visit us on the bourse floor at booth #1000-1100.
In addition to the dealer booths, visitors can also take advantage of educational exhibits, club meetings, programs and seminars. Plus, the show also features two separate and distinct major Signature Sales of numismatic rarities cataloged and conducted by Heritage Auctions out of Dallas, TX. One sale will focus on rare coins, while the other will be devoted to collectible paper money and related items.
About CSNS: Operating in the Midwest region of the United States of America, the Central States Numismatic Society (CSNS) is one of the country's largest numismatic organizations. The society was founded in 1939 in order to create an organization for numismatists living in these Midwestern states: Illinois, Indiana, Iowa, Kansas, Kentucky, Michigan, Minnesota, Missouri, Nebraska, North Dakota, Ohio, South Dakota and Wisconsin. While concentrating its operations in this 13-state region, CSNS membership is open to anyone who wishes to join from any of the 50 United States, as well as residents of foreign countries.
Visit the CSNS website for a map of the bourse floor and for additional information about the 76th Anniversary Convention. If you go to the show, remember to stop by the SilverTowne booth (1000-1100) and say hello!