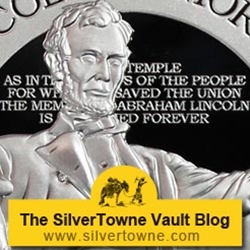 2015 America's National Monuments - Lincoln Memorial
The first coin in an exciting new four-coin series highlighting some of the most well-known monuments in the United States is now available. The 2015 America's National Monument Series kicks off with a 1oz .999 fine silver coin featuring the Lincoln Memorial. The coin is struck in proof quality and is issued as legal tender under the authority of Niue, an island country in the South Pacific Ocean.
The Lincoln Memorial is an American national monument built to honor the 16th President of the United States of America, Abraham Lincoln. Located on the western end of the National Mall in Washington, D.C., the Lincoln Memorial is one of the most prominent structures in the nation's capital. To the east of the memorial sits the Washington Monument, with the Lincoln Memorial Reflecting Pool, the largest such pool in the city, stretching out between the two structures.
The design of the Lincoln Memorial was based on the Greek Parthenon, with thirty-six exterior columns representing the thirty-six states in the Union at the time of Lincoln's death. The names of those states are carved into the area above the columns. The forty-eight United States at the time of the memorial's dedication in 1922 are carved further up on the structure above the colonnade.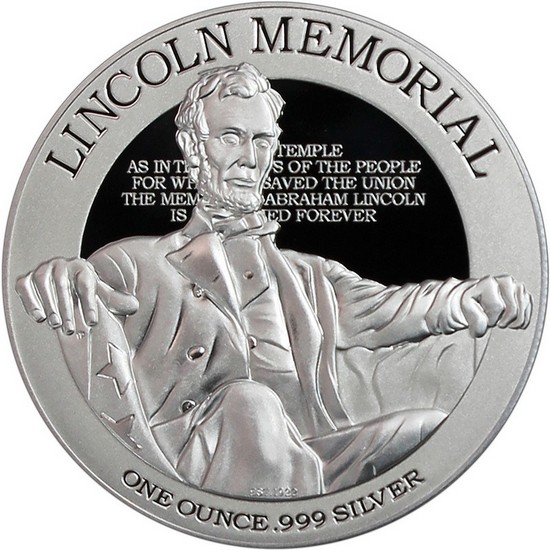 The interior of the Lincoln Memorial is divided into three chambers. The central chamber is home to the iconic seated Lincoln statue. The south chamber features the text of Lincoln's well-known speech, the Gettysburg Address, carved into the wall. A mural painted above the carved text includes imagery depicting themes of Freedom, Liberty, Immortality, Justice and the Law. The north chamber includes a similar mural depicting Unity, Fraternity and Charity. This mural is painted above the text of Abraham Lincoln's Second Inaugural Address.
The coin's reverse depicts a close-up view of the Lincoln Memorial's main statue of a seated Abraham Lincoln. The text from this wall of the memorial can be seen in part behind Lincoln: "IN THIS TEMPLE AS IN THE HEARTS OF THE PEOPLE FOR WHOM HE SAVED THE UNION THE MEMORY OF ABRAHAM LINCOLN IS ENSHRINED FOREVER". Inscribed above the main design area is LINCOLN MEMORIAL. Along the bottom of the reverse is inscribed the coin's weight and fineness, ONE OUNCE .999 SILVER. The coin's obverse depicts an effigy of Her Majesty Queen Elizabeth II, with inscriptions ELIZABETH II, NIUE, 2 DOLLARS and 2015.
No more than 5,000 of the 2015 Lincoln Memorial 1oz Silver Proof Coins will be released - Get Yours Today!
Future releases in the series include: Jefferson Memorial, Vietnam Veterans Memorial, Washington Monument - Collect Them All