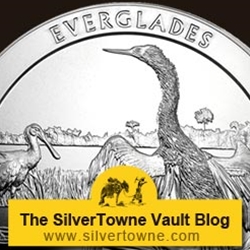 2014 Everglades 5 oz Silver Coin
The fifth 2014 Five Ounce Silver Uncirculated Coin release in the America the Beautiful series is now available at SilverTowne. This latest release features Everglades National Park, located in the southern part of Florida. The Everglades region makes up the largest subtropical wilderness in the United States, with two million acres of wetlands – over one and a half million of which is within the Everglades National Park itself.
The Everglades area is known around the world for its extraordinary wildlife, including unique plants and birds, crocodiles and alligators, endangered manatees and Florida panthers – and many other species, including 27 different kinds of snakes! The Everglades are commonly photographed and visualized as vast marshlands dominated by sawgrass. In fact, there is so much marshy grass land through the heart of The Everglades that it is often referred to as the river of grass.
Adventurous visitors to the area enjoy hiking, canoeing, camping, biking and more. Everglades National Park is also a popular destination for boating, fishing and bird watching. With proper planning visitors can also participate in ranger-led programs, or join a tram or boat tour offered in the area.
The 5oz silver bullion Everglades National Park coin is the 25th issued in the U.S. Mint's America the Beautiful series. The reverse of the coin features a pair of birds that can be found in The Everglades - an anhinga is pictured with outstretched wings perched on a willow tree, with a roseate spoonbill visible further back in the scene. Inscriptions include EVERGLADES, FLORIDA, 2014 and E PLURBIS UNUM. This coin's precise and detailed design is exactly 3 inches in diameter, weighs 5 troy ounces and contains .999 fine silver.
The obverse design is the same as that of the ATB quarters, showing the image of George Washington with the same quarter dollar inscriptions – UNITED STATES OF AMERICA, LIBERTY, IN GOD WE TRUST and QUARTER DOLLAR. Like all 5oz ATB collector versions before it, this release is produced with an uncirculated finish at the Philadelphia US Mint and therefore displays a "P" mint mark. Furthermore, the edge of each coin is incused with the coin's fineness and weight.
Add 2014 P Everglades 5oz Silver Coins To Your Collection