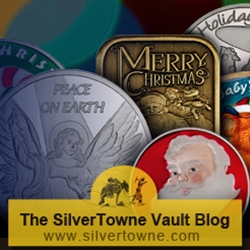 2014 Christmas Gift Ideas
One of the greatest joys of the holiday season is sharing family traditions with your kids, grandkids and other loved-ones. Many people have made a tradition out of surprising their family members each year with a new Christmas tree ornament. What better way to carry out this time-honored tradition than by giving something that will have lasting value, instead of just another cheap plastic or glass ornament that will surely break or fade? Silver & Bronze Christmas medallions and bars from SilverTowne make great ornaments – in beauty, durability and the potential for future returns*!
With so many new Christmas designs offered every year, in both plain and vibrant hand-painted enameled varieties, you'll find something for everyone on your list! You'll love our Santa Clauses, snowmen, cute penguins, angels, candy canes, nativities and other great designs.
To further personalize your medallions and bars, we offer optional custom engraving in several fonts. You also have the option of upgrading to a variety of packaging displays, including ornament capsules that you can attach a hook or ribbon to for hanging, red storage pouches, green or red stocking holders that can be hung on a tree, three different greeting box options, a velvet gift box with various design options, or even an elegant glass dome to display your favorite piece in. See the individual product pages for pictures and pricing information for each packaging option.
This year, why not join collectors nationwide in the annual tradition of bringing home heart-warming Christmas medallions and bars from SilverTowne? Your generous gifts will be remembered for generations to come – that is, if you decide not to keep them all for yourself!
*Based on past market trends. Returns not guaranteed. For specific investment advice, consult with a professional financial advisor.