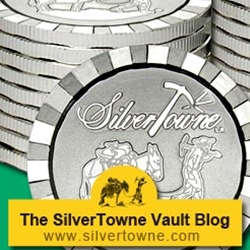 Stackable Silver
SilverTowne is excited to launch our brand new SilverTowne Stackables™ silver medallions just in time for the holidays! Minted at our very own SilverTowne Mint, the new and exclusive SilverTowne Stackables Trademark Prospector 1oz .999 Silver Medallions are an intriguing new concept in silver bullion. These stackable medallions interlock with each other, allowing you to stack them tall without worrying about them tumbling and crashing down! This makes them very easy and convenient to store.
Both sides of the silver medallion feature the classic SilverTowne logo above the familiar trademark prospector with his donkey faithfully following behind. As always, the animal is hauling mining supplies along with the day's silver mining score. Both the logo and the trademark image shimmer with a mirrored proof-like finish, set on a frosted background, adding to the silver medallion's appeal. Inscribed underneath the image on the reverse is .999 Fine Silver and One Troy Ounce.

What makes these new stackable silver medallions unique is their ability to interlock with each other! The stackable, interlocking nature of these pieces is made possible by the main design area of the round being inset on the obverse – causing a slight raised lip on the reverse. Along with this feature is an outer rim sporting small alternating bars of frosted areas along with inset areas of the mirrored finish. In addition to creating the interlocking affect, these alternating bars resemble rays of sunshine, adding an extra alluring effect to each silver medallion.
Buy your SilverTowne Stackables 1oz .999 Silver Medallions today to be among the first to add this exciting new concept in silver bullion to your stacks! Be sure to order more than one so you can have fun playing with the interlocking feature. Order 20 counts and receive a free storage tube.