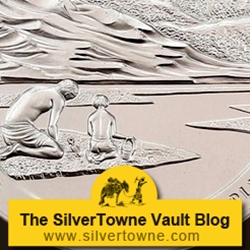 2014 Great Sand Dunes 5 oz Silver Coin
The fourth 2014 Five Ounce Silver Uncirculated Coin release in the America the Beautiful series is now available at SilverTowne. This latest release features Great Sand Dunes National Park, which is located in eastern Colorado.
Great Sand Dunes National Park features the tallest sand dunes in North America, reaching some 750 feet above the ground of the San Luis Valley. The dunes formed from sand and soil deposits from one of the longest rivers in the country, the Rio Grande, and its tributaries. Thanks to shifting winds throughout the area, the dunes change shape daily and continue to slowly grow in size.
Despite the arid nature of the dunes themselves, the surrounding area offers a diverse landscape of grasslands, wetlands, conifer and aspen forests, alpine lakes and tundra. Visitors to the park enjoy hiking, horseback riding, bird and other wildlife watching, splashing in the creek, as well as the unique activities of sand sledding and sandboarding. Great Sand Dunes National Park is also a popular destination for those wishing to stargaze or capture photographs.
The 5oz silver bullion Great Dunes National Park coin is the 24th issued in the U.S. Mint's America the Beautiful series. The reverse of the coin features a father and son playing in the sand alongside the creek bed, with the sand dunes and surrounding mountains in the background. Inscriptions include GREAT SAND DUNES, COLORADO, 2014 and E PLURBIS UNUM. This coin's precise and detailed design is exactly 3 inches in diameter, weighs 5 troy ounces and contains .999 fine silver.
The obverse design is the same as that of the ATB quarters, showing the image of George Washington with the same quarter dollar inscriptions – UNITED STATES OF AMERICA, LIBERTY, IN GOD WE TRUST and QUARTER DOLLAR. Like all 5oz ATB collector versions before it, this release is produced with an uncirculated finish at the Philadelphia US Mint and therefore displays a "P" mint mark. Furthermore, the edge of each coin is incused with the coin's fineness and weight.
Add 2014 P Great Sand Dunes 5oz Silver Coins To Your Collection