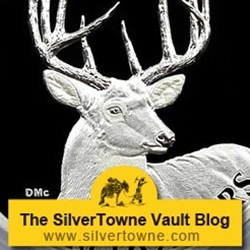 Canadian White-Tailed Deer Series - First Release
In conjunction with the Canadian Royal Mint, SilverTowne is proud to be the Exclusive Dealer in the United States for a Brand New 2014 Canadian Silver Coin Series featuring White-Tailed Deer! The series will highlight the smallest member of the deer family, the white-tailed deer, from different perspectives. This serene creature symbolizes nature's still and constant presence. Now available for shipping is the first coin in The White-Tailed Deer Series, Portrait, featuring a three-quarter profile portrait of male white-tailed deer.
The 2014 Canada Silver White-Tailed Deer Portrait 1 Ounce Proof coin is certified to be 99.99% pure silver with a diameter of 38 millimeters and a metal weight of 31.39 grams. The reverse image by artist Desmond McCaffrey is designed to showcase the singular beauty of a mature male white-tailed deer at the height of its strength. This image renders in fine detail the 10-point antler rack, large ears, distinctive eyes and muzzle, and strong neck and back of its subject. The antlers, which will be shed soon after they have reached their peak growth for the year, bear tines that point sharply upward and bend slightly forward. The lighter coloration of its inner ear, eyes, nose, and lower jaw, along with the rippling muscles of its powerful neck and back, are portrayed in dimensional detail by Royal Canadian Mint engravers.
In addition to the white-tailed deer image, the reverse of the coin also includes inscriptions CANADA 2014 and 20 DOLLARS. The obverse of the coin features the effigy of Her Majesty Queen Elizabeth II by Susanna Blunt, along with inscriptions ELIZABETH II and D.G. REGINA. This coin also features unique edge lettering, with FINE SILVER 1 OZ ARGENT PUR 1 OZ engraved around the edge of the coin.
A certificate of authenticity accompanies the coin and attests that the 2014 $20 fine silver coin is proof quality and is authorized by the Government of Canada. Also included is an elegant maroon case enclosed inside a gorgeous box. The silver proof coin was expertly struck by the Royal Canadian Mint, and has a limited mintage of only 7,500 worldwide.
Portrait is the first design in the White-Tailed Deer series and SilverTowne is the only direct-from-the-mint dealer in the U.S. where you can buy this new proof-quality pure silver coin. Add this gorgeous coin to your collection!
Coming Soon: Watch for 3 more silver releases, as well as a 1oz Gold version of one of the white-tailed deer designs, in the White-Tailed Deer Series to be released on future dates.