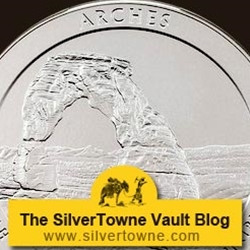 2014 Arches 5 oz Silver Coin
The third 2014 Five Ounce Silver Uncirculated Coin release in the America the Beautiful series is now available at SilverTowne. This latest release features Arches National Park, which is located along the Colorado River in eastern Utah.
Arches National Park is well-known for its many rock formations, including giant balanced rocks, massive rock fins, soaring pinnacles of rock and, of course, more than 2,000 natural stone arches. Visit the park and you'll discover a huge array of landforms, textures and contrasting colors – along with a massive expanse of red rock. The area was named a National Monument in 1929, and later re-designated as a National Park in 1971.
There are plenty of activities to enjoy at Arches National Park. The area lends itself to many rock climbing opportunities, as well as backpacking, hiking, camping and horseback riding. Auto touring is another option for those wanting to get a feel for the park at a more leisurely pace. Due to the unique and gorgeous landscape throughout the park, the area is a dream vista for photographers and artists wanting to capture the natural beauty.
The 5oz silver bullion Arches National Park coin is the 23rd issued in the U.S. Mint's America the Beautiful series. The reverse of the coin features the world-famous Delicate Arch, a 65-foot freestanding natural rock arch. Seen in the distance behind the arch are the La Sal Mountains. Inscriptions include ARCHES, UTAH, 2014 and E PLURBIS UNUM. This coin's precise and detailed design is exactly 3 inches in diameter, weighs 5 troy ounces and contains .999 fine silver.
The obverse design is the same as that of the ATB quarters, showing the image of George Washington with the same quarter dollar inscriptions – UNITED STATES OF AMERICA, LIBERTY, IN GOD WE TRUST and QUARTER DOLLAR. Like all 5oz ATB collector versions before it, this release is produced with an uncirculated finish at the Philadelphia US Mint and therefore displays a "P" mint mark. Furthermore, the edge of each coin is incused with the coin's fineness and weight.
Add 2014 P Arches 5oz Silver Coins To Your Collection