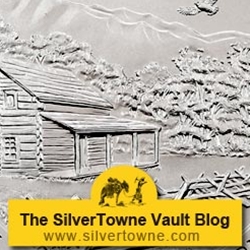 2014 Smokey Mountains 5 oz Silver Coin
The first 2014 Five Ounce Silver Uncirculated Coin release in the America the Beautiful series is now available at SilverTowne. This latest release features the Great Smoky Mountains National Park, which spans the majority of the Great Smoky Mountains themselves. Sometimes referred to as the Smoky Mountains, or simply the Smokies, this sub-range of the Appalachian Mountains stretches along the Tennessee and North Carolina border.
There is a natural fog that frequently can be seen hanging out over the mountain range, hence the name Smoky. Great Smoky Mountain National Park is the most visited national park in the United States and is known throughout the world for its wide variety of plant and animal life. Many people are aware of the large population of black bears in the mountain range, but perhaps lesser known is the large diversity of salamanders that call the area home.
The quality of remnants of Southern Appalachian mountain culture that can be found throughout the Great Smoky Mountains is another of its enduring features. Those involved with the national park strive to protect the historic structures and artifacts that remain and help tell the stories of the people who once called these mountains home. In addition to the historical culture and breathtaking views, the estimated 9 million annual visitors also enjoy river rafting, downhill skiing, hiking and taking in the many tourist attractions found in Pigeon Forge and Gatlinburg, Tennessee.
The 5oz silver bullion Great Smoky Mountains National Park coin is the 21st issued in the U.S. Mint's America the Beautiful series. The reverse of the coin depicts a peaceful scene of a rustic log cabin with a hawk circling above and the timeless mountain range itself seen in the distance. Inscriptions include GREAT SMOKY MOUNTAINS, TENNESSEE, 2014 and E PLURBIS UNUM. This coin's precise and detailed design is exactly 3 inches in diameter, weighs 5 troy ounces and contains .999 fine silver.
The obverse design is the same as that of the ATB quarters, showing the image of George Washington with the same quarter dollar inscriptions – UNITED STATES OF AMERICA, LIBERTY, IN GOD WE TRUST and QUARTER DOLLAR. Like all 5oz ATB collector versions before it, this release is produced with an uncirculated finish at the Philadelphia US Mint and therefore displays a "P" mint mark. Furthermore, the edge of each coin is incused with the coin's fineness and weight.
Add 2014 P Great Smoky Mountains 5oz Silver Coins To Your Collection