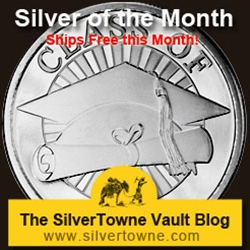 2014 May Silver of the Month
It's the time of year when millions of people across the United States are celebrating the end of one phase of their life and transitioning into the next phase. This of course would be graduation time. Whether graduating from high school, college, preschool, or any other educational opportunity, graduation is something to celebrate! You can help all of the special graduates in your life mark their accomplishment with the May 2014 SilverTowne Silver of the Month – the Graduation Class of 2014 1oz .999 Silver Medallion.
The Class of 2014 medallion features the well-recognized square graduate mortarboard cap, complete with tassel hanging down from the top of the cap. Accompanying the graduate cap is a diploma tightly rolled into a scroll form. Behind the cap and diploma is an indication of light rays, giving the piece an appearance of extra depth. Along with these elements, CLASS OF 2014 is also inscribed on the obverse (front) of the silver medallion. The reverse (back) is engravable, offering the option to personalize your gift. Around the outside of the engravable area is inscribed ONE TROY OUNCE .999 FINE SILVER and 2014.
An enameled version of this custom-minted design is also available, as are bronze and bronze enameled pieces. Optional engraving is also available on these three versions as well as the plain silver, making any of the Graduation Class of 2014 medallions perfect for gift-giving.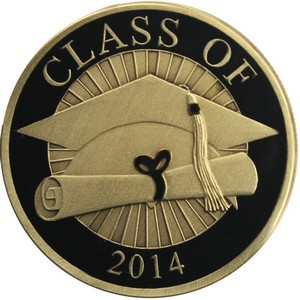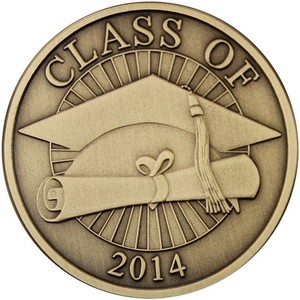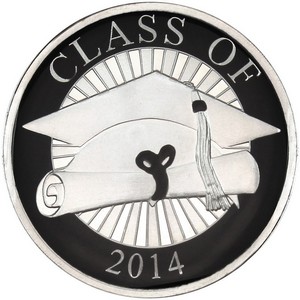 Take advantage of free shipping for the entire month of May and add the Graduation Class of 2014 1oz .999 Silver Medallion to your collection – and get enough to give out as gifts to your favorite graduates. We would also like to extend a big 'CONGRATULATIONS' to all 2014 graduates, from all of us at SilverTowne!
Silver of the Month:
Based on customer feedback, the SilverTowne Silver of the Month allows you to add a variety of designs to your silver stacks with a different featured design offered with free shipping each month. As most investors in precious metals know, an ounce of silver is an ounce of silver – but many people like to have different designs in their silver stacks. After all, if you're going to hold physical silver, why not make it fun and interesting as well as practical? By offering free shipping on a different featured design each month, we hope you will be able to add exciting new designs to your silver collection!