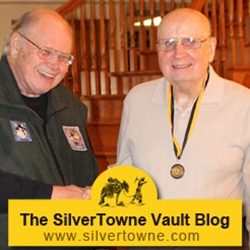 Leon Hendrickson
Ray Lockwood, Education Director for the Central States Numismatic Society (CSNS), and Fran Lockwood, CSNS Convention Exhibit Chairperson, recently stopped by SilverTowne to present a 50 years of CSNS membership medal to SilverTowne founder Leon Hendrickson.
CSNS was founded in 1939 in order to create an organization for numismatists living in the Midwestern area of the United States of America – it is now one of the largest such numismatic society's in the country. Ten years after the organization's founding, Leon started to take his newly acquired love of coins to the next level. In 1949 he began selling coins from a cigar box from underneath the counter at the Rainbow Restaurant, the small Winchester, Indiana diner where he worked many long hours as a part-owner. This "side business" was the beginnings of the Winchester Coin Shop, which would go on to become SilverTowne after Leon and his wife Ruhama (Hamie) Hendrickson enjoyed exponential growth of their small coin business.
During his illustrious career, Leon was an active member of more than 30 numismatic organizations – including serving as a former president of the Professional Numismatists Guild (PNG), Central States Numismatic Society (CSNS) and Indiana State Numismatic Association (ISNA). Read 'About Leon' to learn more about the founder of SilverTowne and to see a list of his additional awards and honors.
Now 87 years young, Leon enjoys his retirement surrounded by family and friends – and he still loves to talk about coins and numismatics with anyone who will listen!
Congratulations Leon, on 50 years as a member of the Central States Numismatic Society!