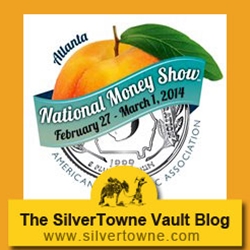 2014 Spring ANA National Money Show
The 2014 American Numismatic Association's (ANA) Spring National Money Show kicks off February 27th and runs through March 1st in Atlanta, Georgia. SilverTowne will be among the many dealers in attendance, so be sure to come see us if you are attending the show! We love to meet coin enthusiasts face-to-face and discuss anything numismatic. In addition to meeting your favorite dealers on the bourse floor, you won't want to miss the great presentations, educational classes and auctions. There is always so much to do at these larger shows!
Special presentations at the 2014 Spring National Money Show include 'Collecting Outside the Box', 'Dumb Coins' and 'A House Divided: The Money of the Civil War', just to name a few. There are also workshops for Girl Scouts to help them earn the Fun with Money Patch and for Boy Scouts to work on the BSA Coin Collecting Merit Badge. In addition to the workshops, younger attendees will find lots of fun activities in the Kids Zone. For the more seasoned attendee, a highlight of the show will be the exciting auctions presented by Heritage Auctions. Of course, another exciting event for the many dealers in attendance is sure to be the Friday morning Dealer Coffee Break – Sponsored by SilverTowne!
Whether you're looking to buy, sell or just chat with other numismatic enthusiasts, you'll find plenty of opportunities to interact. See the full show schedule at the National Money Show website.
Adding to the allure of major coin shows is the chance to explore the city and surrounding areas where the shows are held. Visitors to the 2014 Spring National Money Show will be able to enjoy everything that Atlanta has to offer, including the local cuisine, attractions and numismatic history. Options include museums, zoos, aquariums, botanical gardens, historical sites and of course shopping. To learn more, see 'the official visitors guide to Atlanta' on the show's website.
Don't forget to visit SilverTowne at booths #727 & #826 on the bourse floor while you are taking in all that this great show has to offer. Admission to the show is free for ANA members, and $6 for non-members (a coupon for $2 off can be found at nationalmoneyshow.com). Additionally, the ANA is offering Free Admission for everyone on Saturday, March 1! We hope to see you there.