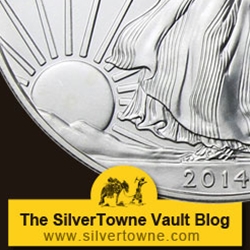 2014 American Silver Eagle Dollars
Silver American Eagles (SAEs) from the United States Mint are one of the most popular modern coins year in and year out. In addition to all of the holiday festivities, now is the time of year when bullion investors and numismatic collectors anxiously await the release of the coming year's version of the SAE. Even though the popular coins are being released by the U.S. Mint a week or so later than they have in recent years, collectors are still jumping at the chance to pre-order theirs now. You can do just that by visiting the SilverTowne 2014 Silver American Eagles Pre-Order page.
The weight (31.101 grams), content (1 troy ounce of silver) and purity (99.9% pure) of every Silver Eagle coin is guaranteed by the US Government. Each coin features a reeded edge and is legal tender with a face value of $1 (which of course is largely symbolic as the real value of the coin is in the silver content). Pre-Order today to lock in your selection of non-certified SAEs (aka raw) - available as an individual coin, 20-piece tubes, 100-count, or even 500-count. You can also place your pre-order for certified 2014 Silver Eagles in a selection of three different labels from both NGC & PCGS. These third-party certified Silver Eagles are available in single coins, 10-piece and 20-piece quantities. Orders for the 20 certified SAEs will include a free NGC or PCGS storage box to store your new eagles in.
Order today and your credit card will be charged at time of purchase. Shipping is expected to begin at the end of January 2014. If you order additional items with your 2014 Silver American Eagles pre-order, they may be held until your 2014 Silver Eagles ship. To have your additional items shipped sooner, please place a separate order for those items.
Pre-Order your 2014 Silver American Eagles now.