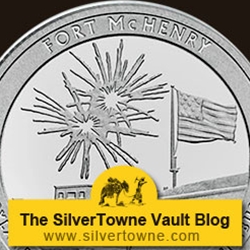 2013 Fort McHenry 5 oz Silver Coin
The fourth of the 2013 Five Ounce Uncirculated Coin releases in the America the Beautiful series is now available at SilverTowne. The latest release features Fort McHenry Monument and Historic Shrine, located in Maryland – the birthplace of The National Anthem.
Fort McHenry has been the site of many historical battles but the battle that it is most known for is the War of 1812, the battle that inspired Francis Scott Key to write "The Star-Spangled Banner". During the 25-hour bombing of the fort by the British in the Battle of Baltimore, US forces prevented the Baltimore Harbor from being invaded.
The fort was designed in 1798 and named after surgeon-soldier James McHenry, a Scot-Irish immigrant who served as the Secretary of War under the first President of the United States George Washington. The fort became an area administered by the National Park Service in 1933, two years after Key's poem became this country's National Anthem. Fort McHenry became a national park in 1925 and later in 1939 it was designated as a national monument and historic shrine. Nearly 600,000 sightseers visit annually for tours and annual events.
The 5oz silver bullion Fort McHenry National Monument and Historic Shrine coin is the 19th issued in the U.S. Mint's America the Beautiful series. The reverse of this coin features a rendering of Fort McHenry during the Defenders Day celebration, the annual event held at the site. Fireworks over the fort symbolize the "rocket's red glare", connecting the fort to it's historic past. Inscriptions include FORT McHENRY, MARYLAND, 2013 and E PLURIBUS UNUM. The coin's precise and detailed design is exactly 3 inches in diameter, weighs 5 troy ounces and contains .999 fine silver. Like all 5oz ATB collector versions before it, this release is produced with an uncirculated finish at the Philadelphia US Mint and therefore displays a "P" mint mark. Furthermore, the edge of each coin is incused with the coin's fineness and weight.
Add 2013 Fort McHenry National Monument & Historic Shrine 5oz Silver Coin To Your Collection