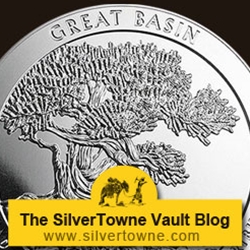 2013 Great Basin 5 oz Silver Coin
The third of the 2013 Five Ounce Silver Uncirculated Coin releases in the America the Beautiful series is now available at SilverTowne. This latest release features Great Basin National Park, located in Nevada near the Utah border.
A beautiful trait of the Great Basin National Park is the bristlecone pine tree, which is known for aging slower than any other single living entity - it can live up to 5,000 years. The longevity of the tree is similar to that of precious metals, surviving for generations. Investors and collectors can admire both of these marvels with this ATB 5oz Great Basin National Park silver coin.
Great Basin National Park was home to American Indians for thousands of years and in more recent times, home to farmers, ranchers and Mormons. The Great Basin became a Park in 1986 to preserve the land and links to the past. The Park covers around 77,000 acres and features countless wildlife, regional geology and water systems, along with many diverse and unique structures. Visiting the park in any season would be a treat for anyone. The vast landscape and picturesque views are pleasing to the eye.
The 5oz silver bullion Great Nation National Park coin is the 18th issued in the U.S. Mint's America the Beautiful series. The reverse of this coin contains a depiction of a bristlecone pine on a rocky and mountainous terrain, along with inscriptions 2013 and E PLURIBIS UNUM. This coin's precise and detailed design is exactly 3 inches in diameter, weighs 5 troy ounces and contains .999 fine silver. The obverse design is the same as that of the ATB quarters, showing the image of George Washington with the same quarter dollar inscriptions. Like all 5oz ATB collector versions before it, this release is produced with an uncirculated finish at the Philadelphia US Mint and therefore displays a "P" mint mark. Furthermore, the edge of each coin is incused with the coin's fineness and weight.
Add 2013 Great Basin National Park 5oz Silver Coins To Your Collection