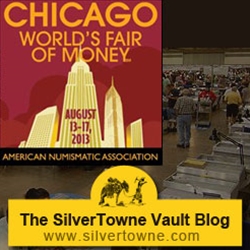 The 2013 American Numismatic Association's (ANA) World's Fair of Money is upon us. The show begins Aug. 13 and runs through the 17, and will be held in glorious Chicago at the Donald E. Stephens Convention Center. SilverTowne will be present along with countless other dealers, so be sure to make plans to come see us! The atmosphere at coin shows is fun and enjoyable for all, from informational presentations to live auctions to face-to-face interactions with your favorite dealers. There is something for collectors and hobbyists of every level to enjoy!
Activities and classes at the 2013 ANA World's Fair of Money include: 'Author Signings', 'Coin Collecting 101', 'Fundamentals of Grading U.S. Coins' and 'Boy and Girl Scout Workshops'. There are also events for the younger audience at the Kids Zone, such as designing and exploring currency and trivia games. For more experienced attendees the ANA World's Fair of Money offers a live broadcast of The Coin Show podcast, as well as many other displays and workshops. Check out the full schedule at the ANA website www.worldsfairofmoney.com.
While in Chicago guests are also able to enjoy the Windy City and everything it has to offer - from attending a Chicago White Sox or Cubs game to concerts in Millennium Park. You'll also experience great tasting food and luxurious shopping. You can also relish the history of coins and the history of Chicago with tours or museum visits. Check out www.choosechicago.com to explore events to plan your trip with all that Chicago has to offer.
While at the show be sure to visit SilverTowne at booths 337 and 436 on the bourse floor. Admission to the show is free for all ANA members, and only $6/day for non-members. A coupon is also available at the ANA website. We hope to catch you there!