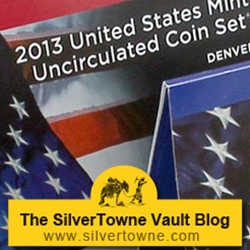 2013 US Mint Sets
One of the U.S. Mint's most popular numismatic offerings of the year is now available. Every year the United States Mint Uncirculated Coin Set proves to be very popular with collectors. These U.S. Mint Sets offer coin collectors an easy way to collect every coin produced for general circulation for that year, in a pristine, uncirculated condition. The uncirculated coins are struck on a special press to produce a sharper, more detailed image than their circulating counter-parts. The coins come in original government display folders, with the coins themselves sealed in blister packs for protection.
The 2013 United States Mint Set includes 28 uncirculated coins, divided into two folders. A bright red folder contains 14 coins with a "D" mint mark, indicating they were struck at the U.S. Mint in Denver. The other folder, bright blue in color, contains 14 coins with a "P" mint mark, as these coins are struck at the U.S. Mint in Philadelphia. With the exception of the mint marks, each folder contains the same 2013-dated coins, which include:

(5) Quarters from the America the Beautiful Quarters® Program - White Mountain in New Hampshire, Perry's Victory in Ohio, Great Basin in Nevada, Fort McHenry in Maryland, and Mount Rushmore in South Dakota

(4) Presidential $1 Coins - Presidents William McKinley, Woodrow Wilson, Theodore Roosevelt, and William Howard Taft

(1) Native American $1 Coin - with the reverse featuring a turkey, a howling wolf and a turtle representing the theme of "Treaty with the Delawares"

(1) Kennedy half-dollar

(1) Roosevelt dime

(1) Jefferson nickel

(1) Lincoln cent
Order your 2013 Mint Set and add these 28 uncirculated United States coins to your collection!