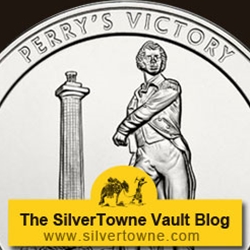 2013 Perry's Victory 5 oz Silver Coins
The latest 2013 Five Ounce Silver Uncirculated Coin release in the America the Beautiful series is now available at SilverTowne. This beautiful 3-inch bullion coin features Perry's Victory and International Peace Memorial, located on the shores of Lake Erie in northern Ohio.
Perry's Victory and International Peace Memorial was established to honor those who fought in what is now known as the Battle of Lake Erie during the War of 1812. The battle occurred near Ohio's South Bass Island, and was capped off by Master Commandant Oliver Hazard Perry leading a fleet to victory in what turned out to be one of the most significant naval battles of the War of 1812. In addition to honoring the victory, the memorial also recognizes and celebrates the long-lasting peace between the United States of America, Canada and Britain.


The area in Put-in-Bay, Ohio where the memorial stands was named a national memorial in 1972. The memorial is actually a 352 foot monument – one of the tallest such monuments in the United States (along with the Gateway Arch, San Jacinto Monument and the Washington Monument). Perry's Victory and International Peace Memorial is also the world's most massive Doric (a form of classical architecture) column. It was constructed over a period from 1912-1915 at the direction of a multi-state commission, and turned over to the federal government in 1919.
The 5oz silver bullion Perry's Victory coin is the 17th issued in the U.S. Mint's America the Beautiful series. The reverse of the coin features a rendering of a statue of Master Commandant Oliver Hazard Perry with the Peace Memorial shown in the distance. Inscriptions include PERRY'S VICTORY, OHIO, 2013 and E PLURBIS UNUM. The obverse design is the same as that of the ATB quarters, showing the image of George Washington with the same quarter dollar inscriptions. The coin is an impressive 3 inches in diameter, weighs 5 troy ounces and contains .999 fine silver. Like all 5oz ATB collector versions before it, this release is produced with an uncirculated finish at the Philadelphia US Mint and therefore displays a "P" mint mark. Furthermore, the edge of each coin is incused with the coin's fineness and weight.
Add 2013 P Perry's Victory 5oz Silver Coins To Your Collection