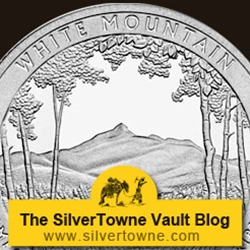 2013 White Mountain 5 oz Silver Coin
The first 2013 Five Ounce Silver Uncirculated Coin release in the America the Beautiful series is now available at SilverTowne. This latest release features White Mountain National Forest, located mostly in the state of New Hampshire.
White Mountain National Forest (WMNF) is a federally operated forest within the White Mountains in northeastern United Sates. Established in 1918, WMNF is often referred to as a park. The Forest consists of numerous mountains such as Cannon Mountain and Mount Moosilauke, and the main body consists of ranges such as: Twin, Bond, Wiley as well as the Presidential Range. There are also six designated Federal Wilderness areas within the Forest that include: Presidential Range/Dry River, Great Gulf Wilderness and Sandwich Range Wilderness.
White Mountain National Forest has a total area of almost 800,000 acres and is used recreationally for camping, hiking, skiing, snowmobiling and has 67 lakes to enjoy. The area is also used for logging and other specialized commercial purposes. WMNF has such a close proximity to metropolitan areas, it is within a day's drive for about 70 million people and has become one of the most visited forests in the country.
The 5oz silver bullion White Mountain National Forest coin is the 16th issued in the U.S. Mint's America the Beautiful series. The reverse of this coin contains a depiction of Mt. Chocorua, the easternmost peak of the Sandwich Range. The mountains are outlined by birch trees, and the circular inscriptions read WHITE MOUNTAIN, NEW HAMPSHIRE, 2013 and E PLURIBIS UNUM. This coin's precise and detailed design is exactly 3 inches in diameter, weighs 5 troy ounces and contains .999 fine silver. The obverse design is the same as that of the ATB quarters, showing the image of George Washington with the same quarter dollar inscriptions. Like all 5oz ATB collector versions before it, this release is produced with an uncirculated finish at the Philadelphia US Mint and therefore displays a "P" mint mark. Furthermore, the edge of each coin is incused with the coin's fineness and weight.
Add 2013 P White Mountain 5oz Silver Coins To Your Collection