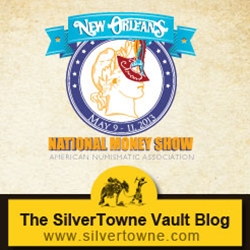 2013 ANA National Money Show
The 2013 American Numismatic Association's (ANA) Spring National Money Show is fast approaching. It begins May 9th and runs through May 11th in fabulous New Orleans. SilverTowne will be among the many dealers in attendance, so make plans now to come see us at the show! Coin shows are a lot of fun to attend - with the ability to meet your favorite dealers face-to-face, attend great presentations for hobbyists of every level, participate in educational classes, bid in live auctions and more. There is something for everyone at these larger shows!
Special classes at the 2013 Spring National Money Show include 'Fundamentals of Grading U.S. Coins', 'Coin Collection Basics', 'Detecting Counterfeit U.S. Gold Coinage' and 'Coin Collecting 101'. There are also workshops for Girl Scouts to help them earn the Fun with Money Patch and for Boy Scouts to work on the BSA Coin Collecting Merit Badge. In addition to the workshops, younger attendees will find lots of fun activities in the Kids Zone. For the more seasoned attendee, a highlight of the show will be the exciting auctions presented by Stack's Bowers Galleries. Of course, you won't want to miss all of the action out on the bourse floor either! Whether you're looking to buy, sell or just chat with other numismatic enthusiasts, you'll find plenty of opportunities to interact. See the full show schedule at the ANA website Money.org.
Adding to the allure of major coin shows is the chance to explore the city and surrounding areas where the shows are held. Visitors to the 2013 Spring National Money Show will enjoy the unique culture and numismatic history of New Orleans. In addition to the usual one-of-a-kind nightlife, amazing restaurants and diverse destinations that The Big Easy has to offer, you'll have a chance to take in a tour of the Old U.S. Mint! This special, limited-capacity, tour offers a behind-the-scenes look at this historical mint. See the National Money Show website for more details. Also available at the official show website is a 'Guide to New Orleans', with useful information to help you plan your trip.
While at the show, be sure to visit SilverTowne at booth #625 on the bourse floor. Admission to the show is free for ANA members, and $6 for non-members (a coupon for $2 off can be found at nationalmoneyshow.com). We hope to see you there!