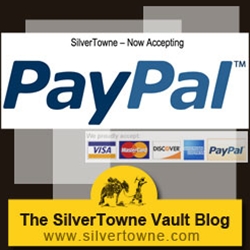 You Can Pay with Paypal!
Most online shoppers have heard of PayPal™, the online payment service best known for its integration with online auction site eBay. What you may not be aware of is the increased acceptance of PayPal as a method of payment at many eCommerce sites across the internet, with more and more being added all the time. In conjunction with our newly launched website redesign, SilverTowne is now accepting PayPal for online orders at SilverTowne.com – adding another convenient way to pay (in addition to Visa®, MasterCard®, Discover® and American Express®).
Paying with PayPal is Secure:
• Shop without entering your credit card or bank account number.
• Get 100% protection against unauthorized payments sent from your PayPal account.
• Receive an email confirmation from PayPal for every purchase.

Paying with PayPal is Convenient:
• Pay with your PayPal account balance, bank account, or debit/credit card associated with your PayPal account.
• Avoid having to re-enter your financial information each time you check out.

Paying with PayPal is Free:
• PayPal does not charge transaction fees to pay with the service.
To use PayPal to pay for your orders on SilverTowne.com, you will need to have a free PayPal account first. If you don't already have an account, you can sign up for free at PayPal.com. Once you have a PayPal account set up, simply choose PayPal as your method of payment at the SilverTowne website during checkout. You will then be asked to login to your PayPal account and confirm the purchase.
It is our hope that by offering this new payment method, doing business with SilverTowne will now be even easier than ever. As always – Thank You for Choosing SilverTowne!