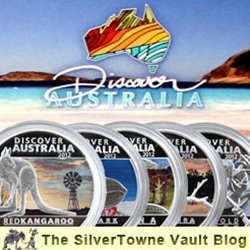 2012 Discover Australia Coins
The 2012 "Australian Animals" series - part of the Discover Australia coin program from the Perth Mint - features some unique animals and landscapes found throughout the diverse continent of Australia. The five animals highlighted on the 2012 coins are the Red Kangaroo, Whale Shark, Green and Gold Bell Frog, Goanna and Australia's most famous bird, the Kookaburra. The 2012 coins were minted in reduced numbers from the previous years in the Discover Australia program (only 7,500 of each silver coin and 1,000 of each platinum coin were minted), making them even more collectible.
Along with the featured animal and landscape, the 2012 Silver Discover Australia coins also include DISCOVER AUSTRALIA 2012, the type of animal, 1oz 999 SILVER and a "P" mint mark on the reverse. The obverse of each coin features a likeness of Queen Elizabeth II, along with inscriptions ELIZABETH II, AUSTRALIA and 1 DOLLAR.
The reverse of the 2012 Platinum Discover Australia coins feature the same animals as the silver coins, but depicted with differing designs. Similar inscriptions appear on the platinum versions, with the exception of 1/10oz 9995 PLATINUM. The obverse of the coins are also the same as their silver counterparts, with the exception of the face value, which is 15 DOLLARS.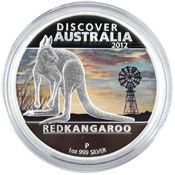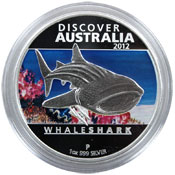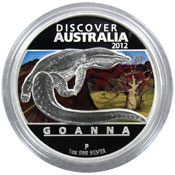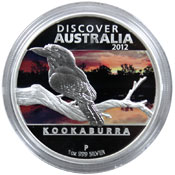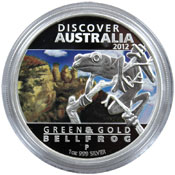 If you haven't seen these beautiful coins, do yourself a favor and check them out! The silver versions of all of the designs are still available from SilverTowne, as well as a few of the platinum versions. (The gold versions of the coins are not available at this time.) Both the 1 ounce silver and 1/10 ounce platinum coins are struck in proof quality, have gorgeous colored backgrounds and come with original elegant packaging and certificates of authenticity. Add your favorites to your collection today!