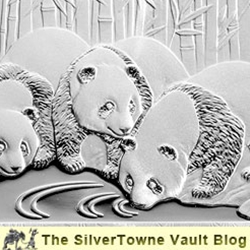 2013 Panda Coins
2013 marks the 30th anniversary of one of the most popular bullion coins in the world – Chinese Silver Pandas! The first Silver Panda was released to the marketplace in 1983, and the coins have become a favorite of collectors worldwide. One of the reasons the Silver Pandas are so beloved is because the reverse design changes each year to feature differing views of panda bears, a well-known national symbol of China.
Another reason to be excited for this year's release is, for the first time ever, the 2013 design features three pandas! All previous designs have featured either one or two of the animals. The reverse of this year's Silver Panda depicts a trio of pandas gathered around a pool of water in front of a 'wall' of bamboo shoots. Inscribed around the pandas is the face value (10 Yuan), silver content (1oz Ag) and purity (.999).
As with previous releases, the obverse of the 2013 coin features the well-recognized Chinese landmark, The Hall of Prayer for Good Harvests (The Temple of Heaven), which is located in Beijing. Above the image, written in Chinese characters, is inscribed "People's Republic of China". The year "2013" is struck below the image.
Aiding in their popularity with collectors and investors, Silver Panda coins are guaranteed by the Chinese government in purity, weight, and content. SilverTowne is pleased to offer this great modern world coin in both MS69 and MS70 conditions as certified by NGC or PCGS, as well as the non-certified BU version. Add the 2013 Silver Pandas to your collection today!