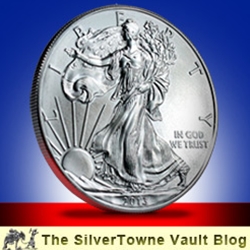 2013 Silver American Eagle Coins
It's that time of year again, when bullion investors and numismatic collectors alike anxiously await the coming year's Silver American Eagle coins to be released from the United States Mint. Silver Eagles seem to grow in popularity with each passing year - and with the current market conditions and other world events, 2013 is poised to continue this trend.
With each coin guaranteed by the United States Government to contain 1 troy ounce of 99.9% pure silver, it's no wonder these bullion coins are popular throughout the world. Now is your chance to pre-order your 2013 Silver American Eagles and lock in the current prices. Shop individual raw coins, tubes of 20, 100, 500 or 1000, or certified slabbed selections from both NGC and PCGS with various labels to choose from.
Order today and your credit card will be charged at time of purchase. Shipping is expected to begin in mid-January. If you order additional items with your 2013 Silver American Eagles pre-order, they may be held until your 2013 Silver Eagles ship. To have your additional items shipped sooner, please place a separate order for those items.
Don't wait, Pre-Order your 2013 Silver American Eagles now to lock in your price (based on current market spot prices).